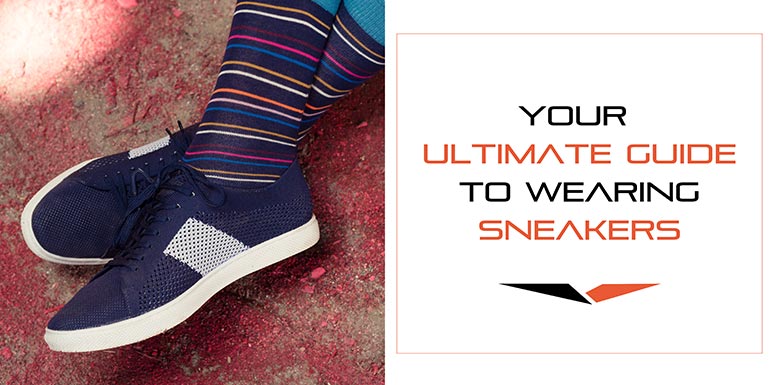 Are you tired of picking sneakers that fail to express you? Are you always confused while sneaker shopping? With our guide to wearing sneakers, we have got your back. 
Ever since the pandemic hit 2 years back and confined us to our homes, "comfort" became the top priority of people around the world, which led to drastic changes in the fashion industry; and the sneakers industry specifically took a huge leap from their color schemes to their trends for both men and women alike.
1- Trends

No matter how much you try to convince yourself that you don't need a new pair of sneakers, there always will be little room for one new pair, and with such new and changing trends, it might get difficult for you to pick your favorite. Therefore, you can follow a few trending styles to make you look all the more appropriate and cool.
Color Play

Having basic white sneakers in your wardrobe is a must-have, but sometimes you need to add a little *sass and spice* to complete your look. These color play sneakers are breathtaking in any color, whether it's red or pistachio, with a pair of color pair sneakers in your closet you are going to bring the best of your edgy looks. If playing with colors isn't in your cards, and you prefer a minimal sneaker look, you can go for basic sneakers and then pair them with outfits that have a pop of color to complete your look. Here is our piece of advice, the best way to style a basic or decent color sneaker is by pairing it up with some chromatic outfits.



Level up your sneaker game

Whether you want to add extra inches to your height or want to experiment with your look, then Lunar Sneakers are a must-have. As they are perfect for a run, or they can also be your go-to sneakers.



Basics are never out of style

If wearing different patterns or color schemes isn't your thing, then these go-to plain white basic sneakers for men have got you covered.
2- Primary Sneakers Rule

It doesn't matter what kind of sneakers you decide to settle for, but there are some fundamental rules that you should keep in your mind.
Always keep them clean/ spotless

No matter how chic or fashionable your sneakers are, if they aren't clean, then your effort won't be effective. The basic cleaning methods of sneakers include washing the laces, expelling the bad odor, adding a sneaker shield, using shoe trees, and lastly, brushing the outsoles.



Eye those sneakers that suit your wardrobe/style

What good will buying the latest trending sneakers do if it doesn't match your style? Don't just go around and spend on booming sneakers. Go for those shoes that complement your entire look along with the ones you already own instead of buying the ones that will force you to redo your entire wardrobe.



Wear them on the right occasion

Sneakers are highly adaptable, however, they cannot be a substitute for a dress shoe. You can't get away by pairing your sneakers with an off–guard outfit. No matter how precious your sneakers are to you, they cannot be worn for every occasion.

3- Recognize your statement sneaker style

Today, sneakers are available in every size and color from everyday unstructured canvas to the shiniest, finest leather, you name it, and it is there. With such a wide range of sneakers available in front of you, you need to know your sneaker style.
Classic sport sneakers

This category includes every form of old-school sporting sneakers. These sneakers were solely meant to be worn on the field, when you go running or to play cricket. Classic sneakers for men were designed to keep your feet comfortable even while playing.



Modern sport sneakers

These sneakers are no different from the classic ones, it just has a better shoe shape and as a matter of fact, modern sport sneakers are difficult to pull off as compared to classic sports sneakers.



High fashion sneakers

The sneakers that made it to this category are designed to be loud and to get noticed. If you are wearing a sleek pair of sneakers, then this category is for you.
Conclusion
It's a wrap!  Investing in shoes is the best investment one can make. Make sure you do that wisely because you don't want to go out in sneakers that don't compliment your look. When it comes to shoes, there are hundreds of options to choose from, but sneakers are versatile for smart-casual looks, making them not so difficult to style.