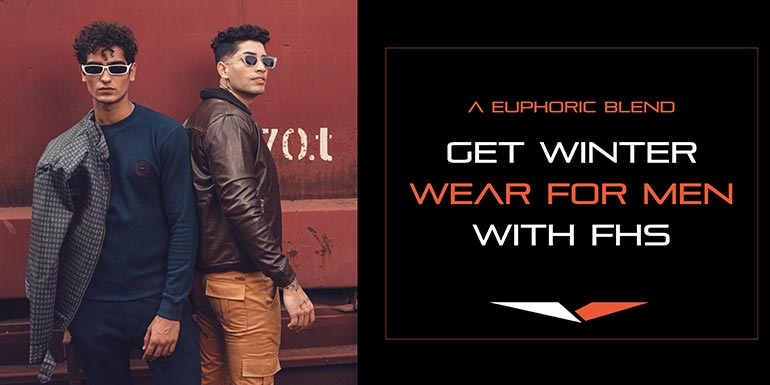 The month of chilly winds, warm cups of coffee, and snug and cozy blankets is almost upon us. And when this season arrives, it gets all the more hard to get out of bed in the morning to do anything, from our regular chores to getting ready to go to work. And when all your mind and body want to do is to have you hit the snooze button on your alarm and go back to sleep, how do you convince yourself to continue with your daily routine? We have an idea: winter wear for men that will have you feeling euphoric and comfy enough to convince you that getting up and ready for work is worth all the trouble. 
And that was exactly the vision when the FHS team sat down to plan out 2022/23's fall/winter collection: to provide all the men with a wardrobe that will make them happy to leave the snug warmth of their blankets and go about their day's work.
And as you can see, we named it Euphoria too; to associate it with a feeling of uplifting bliss and comfort that would easily upgrade your chromatic and lightweight summer wear to become more minimal, warm, and welcoming to beat the chilly winds of winter. 
So here's our guide on how you can style the Euphoria F/W '22 collection when it comes to winter wear for men. 
Winter Wear for Men - Euphoria F/W '22
Jackets
A staple for men in winter, Jackets are hard not to think about when you're planning to shop for winter wear. From bomber jackets to parkas, and sherpa to denim and leather, there's a huge variety of jackets for men to choose from, but our personal favorite would be leather and sherpa jackets. 
Leather jackets have been made to fit the more fashionable, stylish, and chic wardrobe aesthetics in winter wear for men. They're a timeless piece of apparel that can easily fit with any look and make an impression on the crowd without you having to do too much. Sherpa on the other hand are much softer, lighter, and comfy, designed to give you a snug and warm feeling in the face of the harsh cold, particularly in Karachi, that ensues in late December or early January. 
If you're not sure of which jackets you need in your wardrobe, go for at least 3 different choices from our collection to have one of everything to fit your outfit choices and keep you comfortable at relevant temperatures. 
Shoes
When it comes to winter shoes for men, Moccasins should always be a go-to choice. But you can also opt for sneakers and smart-casual slip-on to complete your look with ease. 
While moccasins are more suitable in darker colors, sneakers and slip-on shoes look better in gray, olive, and white tones. And since the colors you're going to opt for will probably be a lot more muted and monochromatic compared to what you wore during summer, the color of your shoes will match the same tone. 
Hence, you should choose the shoes according to not just the formality and casualty of your outfits but also their colors; only when you're wearing the right shoes with the right outfit will you be able to make an impression when it comes to winter wear for men.
Sweatshirts & Hoodies
Men's sweatshirts are a classic choice that is most appropriate for the more harsh temperatures during autumn and are mostly worn with a collared shirt underneath to keep you warm during winter. They're stylish, sleek, and versatile for any occasion, may it be formal, semi-formal, or smart-casual. 
Hoodies, on the other hand, are much better suited for casual outings either with friends or at work when it comes to winter wear for men. The biggest benefit to Hoodies is that they come in different colors and tones to make your style more prominent and unique. 
For more style guides, visit the FHS Magazine.
Shirts & Trousers
Winter shirts for men are a lot more focused on checkered designs with light-colored combinations, although solids can also become a huge success for your style as long as you know the right way to match them. For this, you'll need a good collection of formal to smart-casual trousers and chinos to blend with your overall outfit. 
So if you're choosing a red-and-blue checkered shirt, a pair of navy or black trousers would be better, while for a more solid black or white shirt, olive or beige chinos will make up your entire look. 
This was our guide for you to style winter wear for men. You're welcome to choose whatever outfit fits your style and comfort the best, but we'd suggest you opt for a more unique look this season that pushes you out of your comfort zone and turns your wardrobe to become more flexible.