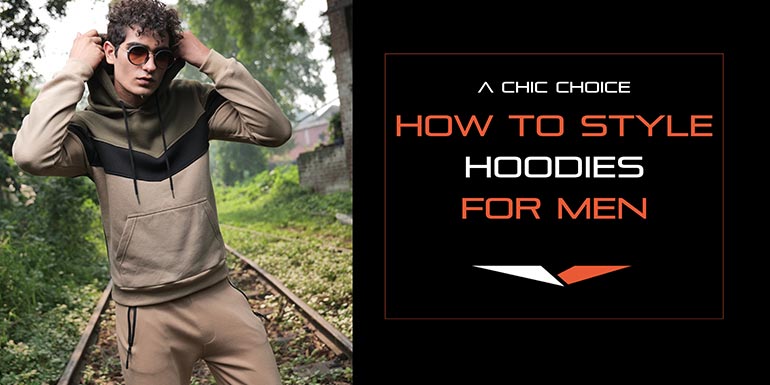 As winter is approaching, it is essential to have a few warmer staples at hand. And owning classical hoodies for men is a non-debatable must-have. They are a versatile option for men who like experimenting with their styling. Hoodies can easily create a trendy and stylish look that can fit any occasion. 
With so many options, combinations, and colors to consider, it can get quite challenging to know what to pair with your favorite hoodies. To give you in-depth insight, we have compiled this ultimate guide on how you can style hoodies for men in a very chic and fashionable way.
Key Elements To Consider When Purchasing A Hoodie
When it comes to choosing hoodies for men, ensure to keep the following three mandatory things in your mind:
Four Modern Ways To Style Hoodies For Men
To make winter fashion convenient and fun we have put together a list of the top four ways you can style hoodies.
Casual

Styling a hoodie casually is the simplest way of styling a hoodie, all you have to do is layer a pullover hoodie as you would do with a sweatshirt. However, you have to pick a thicker fabric for a cozier and chunkier winter ensemble, or you can also keep things minimal by wearing a basic white t-shirt underneath your hoodie. Likewise, while casually styling your hoodie outfit, for colors you can go for suitably muted.

Smart Casual

While styling a hoodie, there is a common misconception that hoodies can not style a smart casual look, however with the passage of time this misconception has come to an end as dressing hoodies for men can be seamlessly done these days. 

For a smart casual hood look, you might want to consider a well-fitted fleece hoodie in a luxe material beneath a soft-shoulder, altered overcoat or jacket, or over a polo or a button-down shirt. For bottoms, you can go for tailored trousers along with a minimal lunar sneaker– navy or smart casual moccasin to anchor this look.

Streetwear

A humble black hoodie or a white hoodie has always been the center of the evolution of streetwear, and it is here where you can creatively play with design, fit, and color. All you have to brainstorm about is relaxed cuts, bold hues, and some sleek slip-ons.

Athleisure

The key element of the hoodies for men is "comfort" and that is essential for athleisure; straightforward style with performance in mind. For a seamless, fashionable look, opt for a soft jacket over a fleece hoodie paired with a fitted jogger and leather sneakers to compliment the look.
Wrap Up!
Hoodies have now become a must-have winter fashion piece. Because of their adaptability, you can easily style them for different occasions and steal the spotlight. 
We have gone out of our way to provide you with the most trendy and versatile hoodies for men. The hoodies that we design are created to keep with the test of time, so you can style them winter after winter.
Happy winter shopping with FHS!