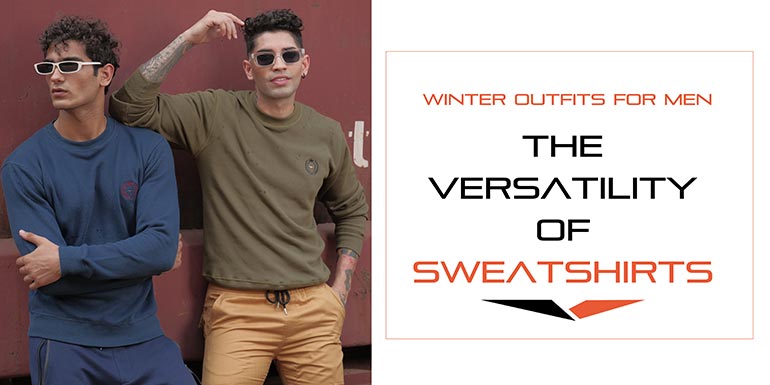 When we talk about style, comfort, and coziness, it's hard to miss out on sweatshirts; one of the most versatile winter outfits for men. Although originally designed as athletic wear, sweatshirts have now become a staple in casual menswear. From basic solids to refreshing prints and patterns, these garments personify contemporary millennial fashion. 
Sweatshirts are easy year-round outfits that offer a special advantage unlike other types of shirts: They keep you warm during the colder months while absorbing heat from your body during the summers. Unless the weather turns scorching hot, sweatshirts can be worn at all times. And it doesn't just end here, these garments are adaptable for styling too.

Whether you want to wear them on their own or on top of t-shirts and shirts for a layered and casual look, any outfit paired with a sweatshirt is practical, trendy, and sure to stand out.
How to Style Sweatshirts for Men?
Sweatshirts are among the most underrated winter outfits for men when it comes to experimenting with your look. Their adaptability allows freedom of expression while maintaining a laid-back and stylish edge. Below are some of the key tips to style sweatshirts for men:


Go minimal and effortlessly stylish by pairing a relaxed-fit sweatshirt with a slim-fit pair of jeans.

For a semiformal and layered look, wear it on a collared shirt or t-shirt.

For a sporty look, pair your sweatshirt with sweatpants and sneakers.

Top off your sweatshirt with a leather jacket to look smart and combat the cold weather.
Suave Men's Sweatshirts by FHS:
Check out snug sweatshirts from FHS's Euphoria Winter'22 collection:

Classic Black Sweatshirt

This one's a basic sweatshirt that you can count upon at any time. If you wish to style it minimal and low-key, pair it up with track pants. However, for a more dressed-up look, wear it with a pair of jeans and black or white sneakers, or you can also wear it with brown chinos and complete your modish look with a pair of black leather loafers. This relaxed-fit sweatshirt is unbeatable when it comes to attaining an easygoing look.

Plain Charcoal Sweatshirt

Go casual with a twist, wear your charcoal sweatshirt with a pair of khaki jeans. This outfit works really well with a pair of casual white sneakers. Do you want to opt for a smarter and more functional look? Combine it with olive chinos for endless styling options. Add a relaxed vibe to your overall attire with gray athletic shoes. Lastly, for a more rugged look, wear it with a black leather jacket, black jeans, and shoes. This will make the charcoal color stand out as well as complement the all-black attire.

Savvy Olive Sweatshirt

Are you looking for a perfect outfit match to spruce up your style? Wear your olive sweatshirt with light blue jeans and brown Chelsea boots or moccasins for a polished appearance. Forget about spending a great amount of time digging through your wardrobe, go all casual and look amazing with an olive sweatshirt paired with a pair of gray jeans that is easy to pull off. For an added touch of style, consider wearing low-top sneakers.

All-rounder Navy Sweatshirt

Get ready for a casual menswear style with a formal spin. Wear a navy sweatshirt with a pair of blue jeans and tan loafers to enhance your look. Another way to add zing to your outfit and balance between dapper and casual is to pair a navy sweatshirt with khaki chinos. Finish off your look with a pair of light blue athletic shoes.
In a nutshell, sweatshirts are flexible, winter shirts for men's clothing that help to create both statement and relaxed looks. Looking for premium quality winter sweatshirts to elevate your style? Check out our collection at: https://fhsofficial.com/collections/sweatshirts