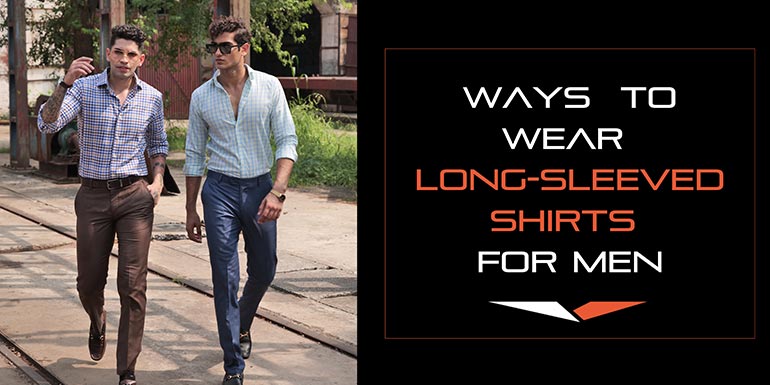 It's time to ditch the idea that long sleeve shirts are exclusively for the office. While these shirts have gained immense popularity among workwear for men, it's safe to say that these are one of the most functional pieces of clothing in a man's wardrobe.
If you're not a great fan of wearing formal attire to work every day, a casual button-down shirt is comfortable, easy to pull off, and, if worn right, is an answer to all your dressing woes as it is an ideal balance between too formal and too casual. These shirts are more formal than a t-shirt and casual than a jacket or coat.
They are extremely versatile and can be styled with a number of staples in your wardrobe. For instance, you can easily pair them with trousers, a pair of jeans, or chinos. Likewise, you can also tuck them in when going for a casual business meet-up or keep them untucked when brunching out with friends or shopping.
FHS's Guide to Styling Full-Sleeve Shirts
All the Way Plaid

If you want to add a tad bit of pattern to your otherwise conventional outfit, dress plaid up for work or for a casual outing with friends with just a change of bottom wear and styling. As an example, pair up your dark plaid shirt with a pair of dark blue jeans for a classic smart casual look.

However, for a more casual and laid-back look, try combining it with a zip-up hoodie and a bomber jacket, or go a step ahead with a pair of white chinos for a change.

Rock Those Florals

Are you up for something inventive with a pop of colors? Bold floral long-sleeve shirts are all that you need to create a style statement. Although they give off very relaxing vacation vibes, these shirts can be easily worn through the week when combined with the right print and match.

Pull off a bright-colored shirt by balancing it off with its neutral counterparts, such as pairing up a maroon floral shirt with white jeans and sneakers for a put-together and bold yet subtle look.



Go for Full Sleeve T-shirt

Long sleeve t-shirts are not commonly found in most guys' wardrobes, yet they make a desirable choice in smart and smart casual clothing lineups. Why? Because they offer a perfect balance between smartness and comfort.

These t-shirts are exactly what you'll opt for when it's too cold for t-shirts and too warm for blazers; meaning they are all-weather outfits. Spice up your style by pairing a black long-sleeve t-shirt with khaki chinos, and white low-top sneakers for an effortlessly dashing look.



All the Rage Denim

It's high time you add a denim shirt to your wardrobe if you haven't already as these shirts work best for dressing down an outfit and are preferred by those who prefer customization without going overboard. Nail your double denim fusion by choosing the correct shades and contrast of denim.

For example, opt for white jeans and a light blue denim shirt combo for summer and black jeans and a dark blue shirt combo for winter, and you're all set to step out. Similarly, if you want to dress up your denim shirt for a smart casual occasion, finish it off with a blazer.
In short, looking and feeling your best in a particular outfit is a matter of styling and having a fine eye for details, color, and print mixes. However, investing in quality and trendy shirts is the right way to get started. Head over to our Casual Shirts collection to explore more.