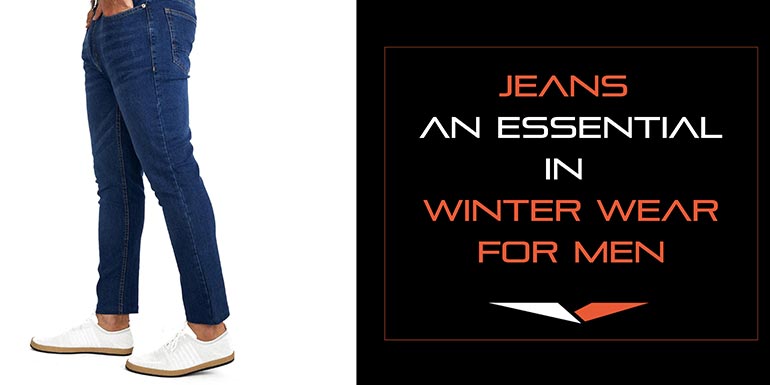 Jeans are versatile and durable, which makes them essential for men's wardrobe. However, with so many styles available it can get tricky to pick the one that complements your aesthetic. They have been in fashion for so long, and they just keep getting better. You can seamlessly style it as winter wear for men to stay warm and cozy. 
As a fashion brand for men, we understand your concerns. This is why in this article we have taken a dig into the best jeans for men that will elevate your fashion style.
Different Types Of Jeans
Slim Jeans

This type of jeans is opted for by many men for its perfect balance between comfort and fit. If you do not wear denim jeans so often then slim jeans are a perfect option for you, as you can go looser and skinnier based on your preferences.

The advantage of wearing slim jeans is that they can contour your legs to give a nice silhouette without suffocating your lower half. This signifies that this type of jeans can be easily styled with a basic t-shirt or can also be worn with collared shirts. 



Straight Jeans

As the name of this category implies, straight jeans are of simple design and good stretch that fall straight from your knee to your hem. The leg opening and fit of these jeans are usually looser, which means that you will find that the diameter of these jeans at your calf, knees, ankles, and thighs are the same. 

With this type of jeans, you can seamlessly style denim on denim looks, you can pair straight jeans with denim shirts, or layer denim jackets for men. The key to nailing the straight jeans look is to ensure that the top matches the bottom in fit.

Skinny Jeans

The next in this category is the popular and widely used skinny jeans. Regular or standard skinny jeans are cut close to the legs. The benefit of skinny jeans is that they make you look taller due to their tapered finish from the top to the end. 

The look of these types of jeans is exquisite for smart casual looks, you can style them with a casual blazer, collared shirt, or even with knitwear. And for everyday looks, you can also style skinny jeans with a bomber jacket. 
How You Can Style Jeans For Winter This Season?
Style It With a Hoodie

With winter approaching every outfit in your wardrobe is about to be replaced by hoodies, as they not only make your outfit look flawless but also keep you warm and comfortable. Hoodies layered with bomber jackets and paired with slim-fit jeans can effortlessly give you a casual look that will not only keep you comfortable but will also give you a sleek look. 

Style It With a Sweater

This outfit look is known to be the classic for winter: jeans, paired with a basic tee and a premium sweater or cardigan. 

There are a lot of different ways to style sweater outfits. You can wear a collared dress shirt underneath the sweater paired with black denim for a chic smart casual look. A button-down shirt can also be styled; you can either choose to tuck it in or leave it untucked, this will allow your sleeves to show. You can dress it any way you want to!



Style It With a Sweatshirt

 Styling sweatshirts with jeans is definitely an effortless way to look stylish and elegant. You can pair the sweatshirt by layering it under a coat or a jacket, for bottoms you can go with dark or light denim jeans, and lastly, to top off the entire look you can go for smart casual shoes. 
Wrap Up!
To conclude all the above we would like to state that when it comes to winter wear for men, you can easily style it. We would advise you that with winter days getting chilly you should take a closer look at the outerwear that you style, as they pull together your winter look.