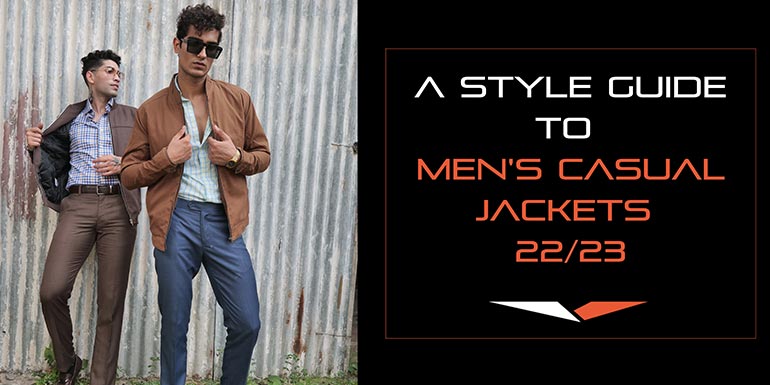 Jackets don't just keep us warm, they redefine the season's attitude, portraying class over a general everyday look. The trends in men's casual jackets have changed drastically over the course of the past few years. 
This is why, with our Euphoria collection 2022, you will get the best and most trendy jackets that will instantly elevate your entire look. This article has gathered a few jacket styling options that will help you dress right this winter season.
Tips On Buying Men's Casual Jackets
While shopping for your jacket make sure to keep a check on the quality of it no matter how much you like it. Remember, quality comes first! 

Second, you need to check the length and cuts of the jacket, as it should complement your body type while keeping you protected from the cold. 

Lastly, shop for good brands. Shopping from good brands gives you a higher chance of your jacket being durable, stylish, and trendy.


Different Men's Jackets You Can Style This Winter Season
Denim Jacket

This type of jacket has been in the fashion industry for the longest time. It is a trendsetter and is a popular choice for people of different age groups and cultures. Whether you choose to wear it over a basic black tee for a casual look or wear it over chinos and a salt and pepper black formal shirt for a smart casual ensemble, the choice can make you appear sleek and fashionable in all casual settings.

Bomber Jacket

You can style this jacket over a casual t-shirt paired with some basic jeans and slip-on shoes. If you are planning to create a fashion statement you can layer this gents' jacket over a turtle-neck, and khaki, and top off the look with white sneakers. 

Fashion Tip 01: Wear it with color coordination, for instance, a black bomber will look flawless with light or dark denim. If you want to add a pop of color to your jacket then a dark green bomber jacket or any other color that complements your style can be a good option for you.

Leather Jacket

For styling this chic leather jacket, you can play with vibrant colors as black leather jackets are very common, you might also want to pair it with bottoms and shoes that are of muted colors enabling the leather to shine. It also goes well over classic blue jeans paired with black leather boots and a plain white tee.

Puffer Jackets

Also known as down jackets, puffer jackets are a one-of-a-kind staple winter essential that not only tops off your outfit but also keeps you warm. Puffer jackets are capable of locking in the heat even in icy weather, which makes them the first choice not only for the fashion industry but also for mountaineers and polar explorers. The best way to style a puffer jacket is by pairing it with activewear.
Conclusion!
With winter approaching it is time to take out your casual wear jackets to spice up your daily fashion wear. With this ultimate guide, you can now easily shop for the right kind of men's casual jacket for yourself. 
With FHS Official shop the best men's jackets online at affordable prices and make your winters fashionable.