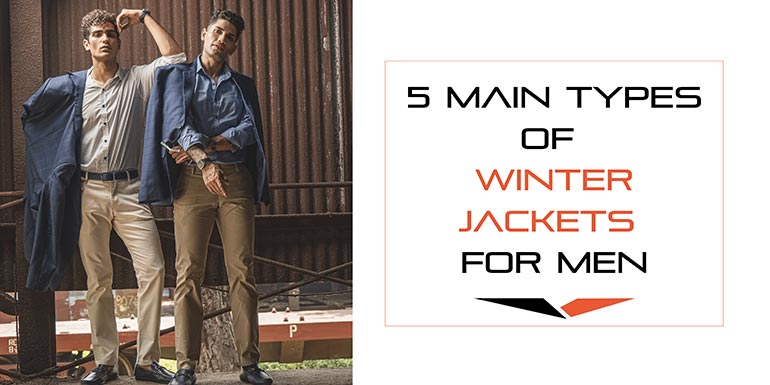 With the beginning of winter, many winter jackets for men will replace the casual v-necks and polos in each wardrobe. Men's fashion is versatile, and there are many different types of outerwear that can be seen with the change in season.
There are jackets that we carry to go to the office, cocktail parties, and special evenings. And we like the different styles: informal, elegant, sophisticated, fashionable, and sporty. Winter jackets for men are the key garment of winter fashion, and picking the right one is as effortless as you think, just keep in mind some features like color, style, fabric, and appearance.
While making your choice to get winter jackets for men, the most essential thing to keep in mind is the quality of the jacket. No matter how appealing the style or color is, the material must be substantial, versatile, and perfect for your environment so that it can complement a variety of different outfits. 
In this article, we will be discussing five different kinds of winter jackets for men.
Bomber Jackets – Voguish Winter Jackets For Men

Let us begin by giving you a little back history on bomber jackets. They were initially introduced in World War I for the air fighters as most of the aircraft did not have an enclosed cockpit and there was the need for durable, warm jackets were highly in demand. But soon after World War II, this type of winter jacket for men gained quite a popularity in the fashion industry and was soon seen to be worn by everyone.



In today's fashion, bomber jackets are worn close to the body providing just enough room for a layer or two underneath. To find the right bomber fit for yourself it is essential to keep in mind that the jacket should sit snugly on your shoulders along with fitted arms and a slim body. Lastly, do not forget to check the length of your jacket. The ideal bomber jacket should be up to the waistband of your jeans meanwhile the sleeves should end at your wrists, just above your palms.



Moving on, one of the best things about owning bomber jackets is that they also serve as men's casual jackets. You can effortlessly style them for any event from casual occasions to smart casual occasions, they make perfect outerwear as they can be paired with chinos, jeans, or even casual trousers.

Denim Jackets – Classic Winter Jackets for Men

Denim jackets are also known to be "timeless classics" as they have been in the fashion industry since 1880; that is over 140 years of being in trend! It is impossible to get a more timeless piece in the fashion world other than denim. Also, a fun fashion fact, in the early days, denim jackets were designed and marketed to cowboys, railroad workers, and gold miners. This is how the term "blue collar" was born for them.



Almost every one of us owns at least one denim jacket, it is a staple piece for every wardrobe. Denim jackets go well with everything. But there is one rule that we would emphasize on and that is to avoid denim on denim, as it gets too matched up and tends to look weird. Even though it isn't a steadfast rule – you can try to switch between the shades of top and bottom. This magnificent jacket goes with just about any paired outfit.



Denim jackets are also a very cost-effective way of looking chic. These jackets can seamlessly give you a luxurious look without putting a dent in your budget. They are very durable as they were initially designed for early 19th-century conditions and no designer ever tried changing this unique aspect of them. And paired with good care, they can easily last you for over a decade.

Leather Outwears – Contemporary Winter Jackets For Men

Did you know? One of the best leather is produced in Pakistan, and we are one of the largest retailers of leather jackets. These voguish and chic winter jackets for men gained a lot of popularity in the latter half of the 20th century. Leather jackets achieved iconic status and general recognition as they got associated with Hollywood. After being featured in several iconic movies, they started making their way into everyday winter fashion real quick.


The perks of owning leather jackets come from their unique characteristics:

Breathability

Durability

Water-resistance

Ease of cleaning
Leather winter jackets for men are well-designed and well-suited for cold temperatures. They tend to cover you from rainy days, frigid storms, and snowfall, and they can also protect you while riding a bike – leather jackets are ideal to keep you safe in adverse weather.


The classic color in leather jackets is black however men's brown jackets have also gained popularity over the years, which makes them a requisite for winter.
Puffer Jackets – Lightweight Winter Jacket For Men

Let us begin by answering a very simple question: what is a puffer jacket? They are warm waist-length or hip-length jackets that have a pattern of stitched sections filled with insulation to give the jacket a puffed-up look.



These cozy winter jackets for men are usually filled with synthetic fibers while some are filled with down insulation; both of them can provide a high level of warmth relying on how good they are made along with the quality of synthetic fibers.



Puffer jackets are also popular for being comfortable sleeveless jackets for men as they are ideal for outdoor adventures in cooler climates. Being layered over a full sleeve vest for composed winter wear – puffer jackets are ideal if you are a mountaineer because of their insulating properties.



While shopping for winter jackets for men you can easily count on the puffer jackets as they are amazing at keeping you warm without compromising on your overall look.

Fleece Jacket – Comfy Winter Jackets For Men

Fleece jacket is a magical material that has woven its way into the wardrobe of pretty much anyone who adventures out in cold weather, whether it is on the mountainside or in the city. Fleece jackets are often referred to as a staple of winter for many of us. Comfortable, soft, and breathable, they are the top choice for many.



Being introduced to the fashion world in 1979, they are light, strong, and new pile fabric that is meant to, in some ways, surpass wool. As it is less itchy than wool, it outperforms jumpers and sweaters when it comes to keeping you warm.



The fleece winter jackets for men work perfectly as outerwear in mild conditions, or you can slip them under your hard shell jacket when the weather turns more challenging.
Last Words!
When it comes to men's winter fashion the options for outerwear are endless. But the key to stand out with your outfit is by styling the right kind of winter jackets for men. We have mentioned the top five jacket types that you can effortlessly pair with any of your outfits.