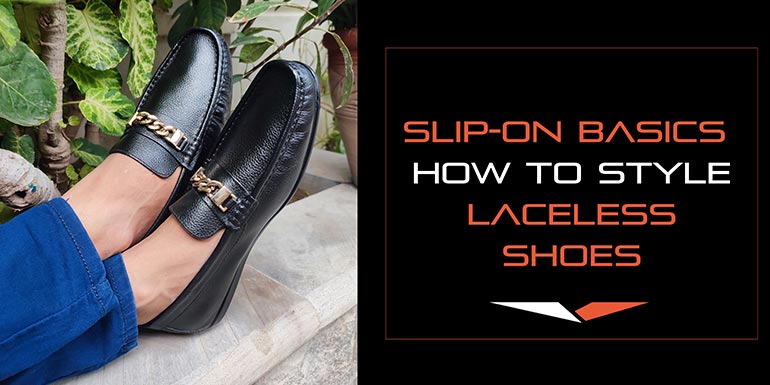 We have all had times when we wanted to step out in utter comfort and ease while wearing a slipper without compromising on the style that comes with sneakers. And for situations when a sneaker might be a little too much and a slider too relaxed, there is an alternative that can assist you to toe that line – laceless shoes aka slip-on shoes, also known by the more infamous name, shoes without laces. 
Owning a stress-free silhouette without any struggle of having to tie laces, laceless shoes are as simple as slipping in and out of a slider. Whether you are going out for errands or work, or you are just hitting the gym, such shoes tend to make for an impeccable and stylish choice. And also, let us not forget how effortless they prove to be while traveling.
In this article, we have discussed in detail how you can style slip-on shoes and nail every look you create with them. But, before we give you all the tea on styling these comfy shoes, we have shortlisted some key details to look for when you are shopping for shoes without laces. 
Key Details To Search For When Shopping For Men's Laceless Shoes 
Soles

Soles are an important part of your shoes because they're designed for the purpose of protecting your feet. Any other part of your shoes can be different in their design, material, and composition. But your soles have to be consistent and comfortable to support your feet. They're what determine your shoes' durability and wearability. Therefore, it's important to choose laceless shoes that have been manufactured using high-quality raw materials.
Apart from slip-on, FHS's Chained moccasin–black has the most comfortable yet firm sole that will make you stand tall, making them perfect for you.



Look

Our next most important detail to look for is the style of the laceless shoe – there are slip-on shoes in the market that just look unfledged and might not offer the style you might be searching for. This is we why ensure to check how the shoe looks from different angles, back and side profiles included– because this is what other people will see, and let us not forget that the first thing a person notices about you is your shoes.


Fabric

It is essential to pay attention to which type of fabric is used in men's laceless shoes. Often, you might think that you have secured an amazing deal on a pair, but after a month the fabric begins to tear and the quality starts lagging. We would recommend that you do your research on the brand's product page to get all the insights into what fabric they use to make the shoes. Our shoe collection has been made using high-quality leather ensuring that premium laceless shoes are there for you for a long time.

And for the styling part, we have divided our tips according to two main occasions: 

Laceless shoes for formal occasions 

Laceless shoes for Semi-formal occasions or smart casual 

Without any further ado, let us dive right into it. 
Laceless Shoes for Formal Occasions
While styling an outfit for a formal occasion you might get stuck as there are many choices to pick from. Moreover, pairing laceless shoes with formal wear can get a little tricky but do not worry as we got you covered. While you are getting ready for formal events – do not forget to keep in mind the color palette that you will be wearing. 
The key to styling, not just laceless but any other shoes, is to understand the colors and the event theme. For example, if you have to attend a business event then sophisticated colors such as black, navy blue, or brown can effortlessly be styled with strapped black loafer giving you an elegant look for the evening. 
Formal events are perfect nights to style loafers for men – they have been a staple of men's footwear for over a decade and there are tons of styles you can pick from. We would suggest you play with colors, textures, and styles until you find something that feels comfortable and elevates your overall look. 
Laceless Shoes for SemiFormal Occasions
There is no denial in the fact that shoes tend to create a huge impact on the overall appearance of any outfit. So, while styling for semi-formal events, consider your footwear precisely. You can style your look with sneakers or moccasins for a smart casual look which makes it perfect for semi-formal events. 
Men's moccasin shoes can easily elevate their entire look. However, this can only be done when you pair the right moccasins and by "right" we mean the right style, color, and texture. As mentioned above color is really important in fashion, and this is why styling moccasins the right way is quite essential. 
Styling tip: Pair slim-cut pants with moccasins to achieve a sleek look. 
Final Words!
To sum up, we would like to conclude that styling slip-on shoes is quite a fun thing. These laceless shoes can embrace comfort and simplicity – aesthetically. You can easily find the right pair of laceless shoes that are of premium quality ensuring to provide you with a breathtaking look for your important events.