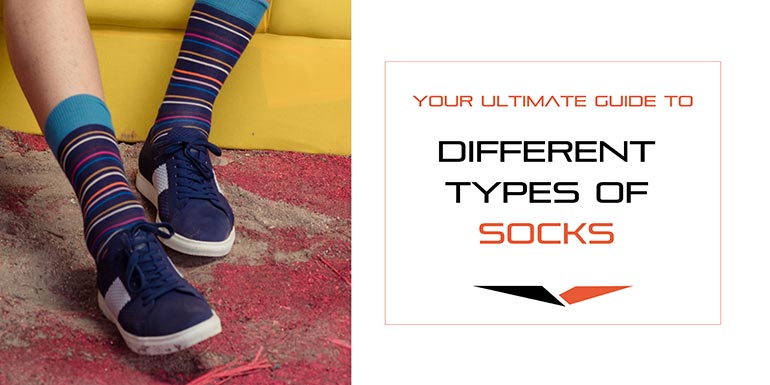 We can not deny that our feet are the most active part of our body. They carry us to places, help us to get through our good and bad phases of times, and they are often taken for granted. So we're here to tell you, our feet deserve to be treated with the best care. 
And when it comes to it, high-quality designed and manufactured socks are the key to treat your feet well. And there are many different types, of different lengths, and different materials, and are made for different purposes. This vital accessory is more sophisticated than we think. 
Types Of Socks
Crumbled in the corner of your closet, this essential accessory deserves a lot more attention than you give them. They are a vital part of your wardrobe and are endued with style and comfort. And, like any other clothing piece in your wardrobe, socks also come in various patterns, sizes, and fabrics. We have gathered a list of a few different types that will give you a clear image of which type of sock to style for which occasion:
Ankle

These types wrap themselves around your ankles, and they can be seen from above your shoes, making them limited and convenient. They are also known for being an excellent pick when the weather is warm outside. Ankle socks can be easily styled with different types of sneakers or even with sports shoes.

Even though these socks aren't that visible – you can still try different colors and patterns to add a pop of colors to your day-to-day style. They are a perfect match for your gym session as you wouldn't want your legs to overheat. Ankle socks come in a variety of thickness that supports your needs. These socks are highly versatile and deserve to make their way to your drawer.




Athletic

If you are an athlete and are planning on taking part in some daring sporting adventure, or you are just very physically active – then athletic socks are all that you need.

These types come in different types of lengths and styles to fit your needs, but they tend to be made using a thicker material compared to your other pairs of the accessory. Sports socks not only help in absorbing any sweat, but they also give you a touch of extra cushioning for harder impact. And obviously, they are likely to be a little hard-wearing as well to keep up with the strains and stresses of the sporting lifestyle.

Athletic socks are also a great option when you want to enjoy an amazing hike or just a woodland ramble. Their thickness is a good fit for warding off dirt and thistles while you are out in the wild.





Dress

Dress socks are stitched with refinement and a breathable knit fabric, this type is essential when it comes to men's socks. These are perfect for your office wear, and they go up your calf giving you a creaseless look to your tuxedo and suit.

They'll provide you with a professional look and will not allow your feet to feel cold. Also, you need to own a couple of these for a functional closet.

Styling tip: styling dress socks is very straightforward – you can seamlessly pick color schemes like gray, black, or brown and pair them with the color of your suits for a sleek and contemporary formal look. You can even pick contrasting colors for family events.





Casual

Style and fun come together in this category. These types of socks are very easy to style and store. Casual socks are comfortable to wear and tend to add a lot of personality to your daily outfits. You can seamlessly mix and match these types of socks and enjoy these fashion accessories.

Breathable and light, these are a staple piece of accessory for every closet. Experimenting with quirky socks adds to your confidence. You can pair these with your everyday jeans, shorts, and literally everything in between. They are breezy and light which makes them convenient to style.
Conclusion
Purchasing socks definitely works as therapy and is also known as an expression of self-love. Wear and style what you like on your feet and let your walk do the talk. With all these different types, do not confuse yourself with what kind of socks you want, and pick the ones that suit your styling.