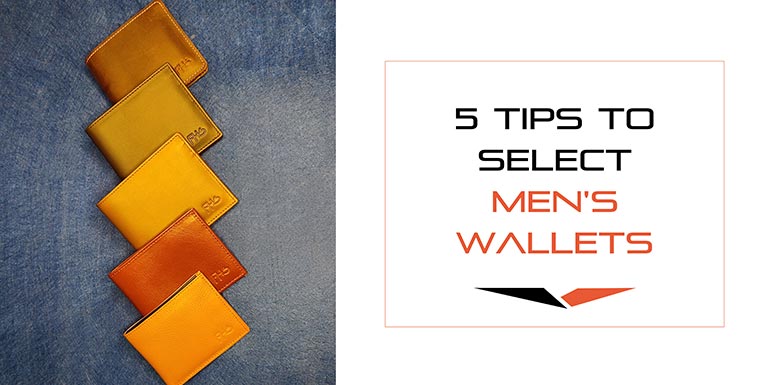 Picking the right men's wallets can get tricky as there are more than enough options to pick from – the right wallet should suit your lifestyle and personal preference. This is why, more often than not, when shopping for the right men's wallets there might be chances of getting the desire to buy the exact same one as the previous one. However, you can use this opportunity to get one that suits your personality and fits your style.
Whether you are purchasing a wallet for yourself or gifting it, they should be of high quality and durable. We have created a list of the top five tips for you that can help you in selecting the right wallet.
1-Color Of Wallet
A wallet does not just hold your valuable belongings, it is also a statement-making accessory piece that is a part of your day-to-day fashion ensemble. Consequently, while picking the wallet you should consider what color is right for you.
Pick the color that complements your style – while choosing a wallet for yourself consider the colors that go with your casual as well as formal style. For this, you can view the colors that are available in your wardrobe. For example, if you wear neutrals then you might want to consider a brown or a beige gent's leather wallet such as a classic matte finish dark brown wallet; this is a perfect choice for men who like to keep it minimal. 


 

Consider the look of the wallet as it will age – there are certain colors that seem to wear off quickly as compared to others. As wallets are a part of your daily life, you should preferably pick colors that are dark and do not get dirty quickly. Search for leather ones that are easy to keep clean. 

Go for the color that pleases your eyes – It is scientifically proven that colors can easily affect our mood. You want to pick a wallet that sparks joy when you take it out to pay your bills. Look for colors that make you happy and excited.
2-Quality Of The Wallet
An essential part of picking the wallet is its quality. A good quality men's leather wallet plays an important role in making the product worth buying. It should have a strong crease along with unblemished sewing. The attachment of the wallet must be strong and simple while using.

Whether you own a trifold or bi-fold– or long men's wallets the quality of the wallet shall not be ignored or compromised.
3-Fabric Of The Wallet
Like in garments, fabric plays an important role in wallets as well. In most gent's wallets, the fabric used is leather, as leather is durable, dust-resistant, and also tough. We would advise you to take a deep look into the different types of leather that are used in the product– there are many varieties starting from slender ones to thicker ones; also don't forget to notice the way it is sewn. While making your purchase, inquire whether it is waterproof, as it is the basic requirement of your wallet to keep your valuables protected.
4-Don't Forget Compartments
The main purpose of your wallet is to provide you with enough space that can hold all your cards, cash, and receipts. The number of compartments is quite an important thing to keep in mind while you go for shopping. The compartments are also known as "dividers" which means they divide and organize your frequently used credit cards, debit cards, and business cards. 
There are different compartment numbers available. For instance, if you want to keep all your money in one place then you can go for single-compartment wallets.
5-Say "NO" To Big Sized Wallet
There are many possibilities available in the market today when it comes to men's wallets. You need to look for one that is of perfect size and also fits seamlessly in your pocket. Whether it's an earthy resonance wallet or you are going for a classic versatile moneyclip wallet you should look for one that fits your style as well as your pocket.
It's A Wrap!
A wallet is one of the best fashion accessories a man can carry on a daily basis. With these tips, you can find just the right kind of men's wallets for yourself. Having the right fashion accessories can gradually put you in a good mood.