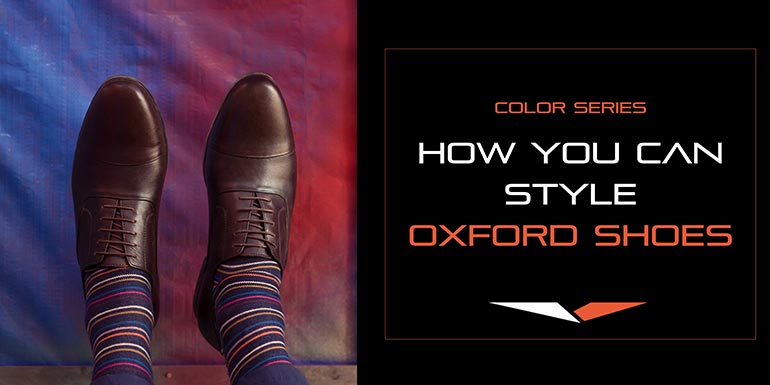 Shoes tend to say a lot about you. And a high-quality and polished pair of oxford shoes indicates that you take pride in your appearance, while on the other hand if you roam around in an old pair of sneakers it will be indicating that you are pretty laid-back. 
The key to pulling your look effortlessly together? Here is a style secret - top off your outfit with a pair of elegant oxford shoes. It does not matter if you are suiting up for a business meeting or simply going out in jeans on the weekends – this shoe style will elevate any look instantly. 
Not sure how to pull off a pair of them? Do not worry because this article has been made to help you out.
What Are Oxford Shoes?
The best way to define oxford shoes for men is the closed lacing – the eyelet tabs are sewn at the top or underneath the shoes. The shoes were initially plain shoes that were made out of leather, but with the passage of time their style has evolved remarkably, and now this shoe category includes a vast range of detailing, fabric, and varying styles that are suitable for both formal and smart casual wear.
Colors In the Shoe
Tan

Tan has now become a famous shade in men's footwear, and it is because of its varying dark and light tones that it's one of those colors that are easy to style with almost everything. Tan paneled oxfords are an amazing option for a not-so-formal look, and they can easily be worn with bright-colored chinos, denim trousers, and navy pants. 

Black

Having black formal shoes is a staple piece for every wardrobe, and also it is a number one shade to wear to formal meetings. Premium black oxfords are one of the most versatile shoes that a man should own, and they can be styled with almost every possible color for a captivating look. 

Brown

Whole-cut Oxford-Brown is the right option when they are paired with dark brown, gray, or even navy suits. Brown is way more striking when styled with these colors and will make you visually stand out in the room. 


How to Style them?
Smart Casual

Oxfords can be a perfect fit for any smart casual event – such as lunches, parties, evening get-togethers, and more. To carry a smart casual look paired with these shoes, begin by searching for the perfect pair of pants. As the boots are pretty formal, they need a somewhat basic pair of pants to balance their style. In being specific, a dressy pair of jeans or chinos will work seamlessly to achieve the intended aesthetic. 

Formal

All hail to their polished finishing – oxford shoes are perfect for any formal event or occasion. They complement suits perfectly and add a dapper touch to any formal outfit. If you want to achieve a captivating sophisticated formal look with these leather shoes, ensure to begin by selecting a black patent leather pair. 

Style tip – slimmer oxfords appear to be dressier than the ones that are wide
Outfits To Style With Oxfords
With Chinos

For a breathtaking, smart casual look, chinos and oxford pattern shoes make a fantastic combo. To keep the outfit coordinated, just go for a basic color scheme for each piece. For example, brown, navy, olive green, or black chinos can easily fit well with black or brown shoes. And for the top you can choose depending on the look you are going for. If you are styling a dressy look then try to go for a long sleeve button up and for a relaxed look, you can go for a short-sleeved t-shirt or polo.



With Jeans

Even though these are mainly dress shoes, it does not mean that they can't be styled with jeans. As a matter of fact, these shoes look amazingly stylish when styled with jeans as long as they are worn right. If you want to nail the look then pay close attention to the color of your jeans and shoes. While black ones can be paired better with a darker shade of denim, tan ones can appear captivating with blue jeans. Also, do not forget to make sure that your complete look is appropriate, by balancing the look with a button-up shirt or blazer on the top.

With Pants

If you are styling suit pants or trousers, then oxfords make an amazing footwear choice. Their sophisticated and sleek aesthetic is what makes these shoes the perfect formal outfit partner. Whether you are heading to a cocktail event, wedding, dinner, or even work – this footwear is an ideal choice for any formal or semiformal event or occasion. To create an eye-catching look, just ensure that you select the right color and style of shoes to suit the pants that you are wearing.
Wrap Up!
Oxford shoes are an exceptional investment for any man. They are classic, perfect, and are the refined choice for tuxedos, separates, and even suites. Relying on the styling and color they can be worn as smart-casual or semiformal. 
Visit our website and explore the premium collection of oxford shoes in Pakistan.