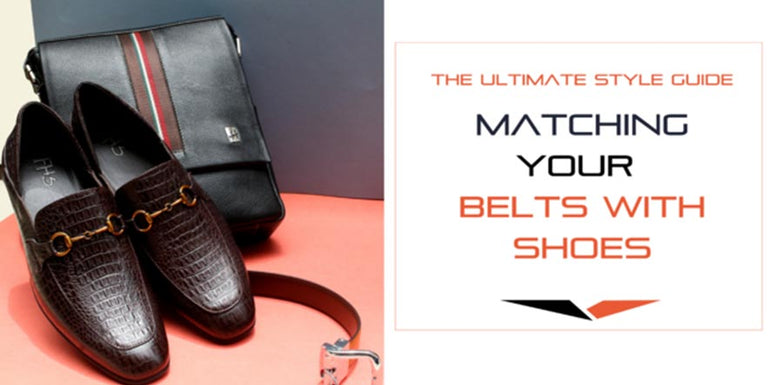 We've seen a lot of people inquire about how they should be matching their outfits, from color styles to matching their shirts and pants with the right shoes, overcoats, and even belts. While FHS may not seem like men's usual fashion influencer brand, we do have some pretty good ideas up our sleeves. But instead of focusing on generic outfit ideas, we want to take our time in this article to talk about one specific problem our audience asks very often: "How can I match my belt with the right kind of shoes?" And if you're someone who's spent an ample amount of time asking that, you're at the right place.
Now, there may not be any hard and fast rules when it comes to men's fashion, but some rules are necessary to be considered when dressing up, like matching your belts with your shoes. And when it comes down to this, there are two rules to make this go right (or they can horribly wrong) for you, and they are:
Matching your belts and shoes depending on your outfit style
Matching your belts and shoes according to color
Matching Through Outfit Style
Smart Casual Outfit
With smart casual outfits, you have a lot of freedom in terms of how you match your belt with your shoes. It would be considered chic to go with a controlled degree of disharmony, but you better not go overboard with it. It's still not okay to wear black shoes and a brown belt, no matter how much of a rule-breaker you imagine yourself to be when it comes to outfits. Other than black or brown, you'll be good to go with your accessories as long as they're in the same color family as your outfit. Your shoes must match your pants, that's your first clue to choose your outfit. Once the shoes are decided, you can go ahead, pick a belt and other accessories accordingly.
Formal Outfit
The more formal your clothes, the more careful you have to be while matching your belt with shoes. So match your black belt with black shoes and a brown belt with brown shoes. For no reason should you be caught wearing a black belt with brown shoes, and vice versa when it comes to your formal events and meetings. And if you're wearing a suit, make sure the texture and color of both your belt and shoes are a match. Although, don't sweat yourself for it, they don't need to be an "exact" match, just close enough for you to look good as you pull off the outfit.
Matching Through Colors
We've already discussed how black belts should be matched with black shoes and brown belts with brown shoes. But there are other colors that you'll need to combine as well, and there may even come occasions where you'd need to match your black and brown accessories with different shoe colors and vice versa. So what will you do then? Below is a guide from FHS on how you can match different color shades of shoes and belts accurately.
Belts with Different Shades of Brown Shoes
Chances are, you have different brown shades of shoes and belts available in your wardrobe. And if you're wondering whether you can match these different shades in an outfit, the answer is, yes you can. After all, they are all brown, just different tones of it. But even so, if the tones of your belt and the bottom of your shoes match exactly, that'll be considered ideal for your styling sense.
Belts to Wear with Black or Gray Shoes
Black and gray are non-colors, and being so, they're better off matched with cool color tones than warmer ones. On that note, you can easily match gray belts with black shoes, or a dark blue/gray/black belt with gray shoes. As long as you look classy, you're on-point with your outfit.
Belts with Oxblood Shoes
Since oxblood is a more reddish-brown sort of color than brown, you should match an oxblood-colored belt with shoes of the same color. A lot of people would advise you to match your oxblood shoes with a brown belt, but we think that'll make your outfit look too "busy". And if you love minimalism as much as we do, having a busy sense of style may not resonate well with you.
Belts with Two-Toned Shoes
The matching of belts with two-toned shoes is no rocket science, just notice the feel of the shoes, observe which color is more dominant, and match your belt to be of the same color. E.g. When you have two-toned shoes with blue suede in the mid-section and a complementary brown overall, you'd want to match the color of the belt to be brown.
You'll either hit the mark or you won't, there's really no other way about it. In the end, it's all about complementing your shoes with the right color of the belt. None of it has to be a perfect match, but it just needs to be good enough to add to your style. And if you follow our guide, you should be good to go with your dressing, impressing those whom you need to impress while also upgrading your fashion style in the most accurate way.
If you want to have a look at more fashion guides, or just want to go through what's going on with FHS, check out our Magazine section.