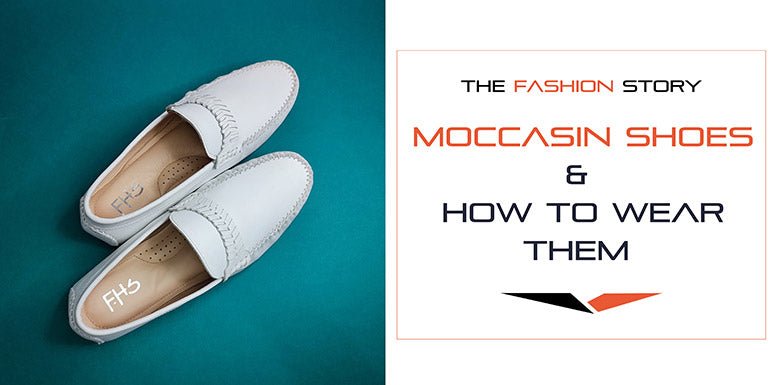 The French fashion designer, Christian Louboutin, was once quoted saying "A good shoe is like good wine, they're going to stay and last for a long time". And while he may have been talking about a particular time period for owning a pair of shoes, we can easily use it to describe Moccasin shoes. Manufactured by the Native American tribes, the history and origin of the Moccasins date back to 30,000 BC, with its various adaptations and designs becoming trends throughout history.
At FHS,  the main focus of attention is in the designing and manufacturing process of the moccasin shoes, and all that inspiration comes from learning about the history and origins of these shoes combined with the style we'd want them to portray in men's smart casual fashion trends of today. Let's get into a bit of that history, and then we can discuss how you can style your shoes with the right outfit to make them stand out.
The History of Moccasins
The word "Moccasin" comes from "Makasin" i.e. a word belonging to the Algonquian language, Powhatan. The word literally means "shoe" and is now used to describe any shoes that originated in Native America. While footwear was never a priority for the hunter-gatherer ancestral tribes, when they hunted animals and consumed the food that came from them, they didn't let the other non-perishable parts of those animals go to waste, either. The wool acquired from the wildlife went into being processed and manufactured into clothes, while the tougher parts of the hide were used to create this particular footwear we now call moccasins. 
The most unique property of the shoes comes from their U-shape, and while the basics of manufacturing the shoes remained similar, different tribes could easily recognize the people of a particular group through the shape and build of their moccasins, with distinct features being added in the sole and shape of the shoe.
Though the shoes were quickly gaining popularity in America, European colonists weren't interested in Native American culture and didn't pay much heed to these shoes. And so it seemed for a long time until G.H Bass came up with "Weejun" shoes in the 1900s that became an instant hit among the masses. 
Moreover, the Norwegian penny loafers were named after the country itself, and Bass denied any connection of them with indigenous tribes, a little research revealed that the footwear was based on "Tese" shoes made in Norway during the 1800s, which were inspired by none other than indigenous cultural shoes, i.e. the moccasins. So, in short, moccasins made their way to Europe during the fur trade between the 17th and 19th centuries, after which the Europeans became more and more involved in making their own versions of the shoes that were made by Native American tribes centuries before.  
While their past was rich on its own, Moccasins are still considered one of the most popular, stylish, and comfortable choices when it comes to smart-casual shoes. Their defining and unique qualities derive from the materials with which they're made, their soles, and manufacturing method. And even though their overall design has evolved, the basic principles of making them remain the same. 
Wearing Moccasin Shoes
Now that you know more about Moccasin shoes than you did while opening this article, it's time we provide you with a small guide on how you can pair your moccasin shoes with your outfits properly. Keep reading, as you might find some fashion advice you've been looking for.
Based on Color
There's a lot that comes into consideration when selecting a proper shoe to wear during any situation. Black moccasins are more suited for a professional, office-based look. Whereas, brown moccasins can work with almost any outfit you have in your wardrobe. But in both of these cases, it's very important to note the color of your smart-casual or formal outfit in order to match them with your shoes. The darker the color of your outfits, the better brown and black colored shoes look, and vice versa. While, if you're wearing tan moccasins, you may match them with simpler, lighter tones. 
In short, with black shoes, you can match gray or charcoal-colored suits and pants, and a darker shade of jacket on top. With brown shoes, you can easily wear classic and neutral-colored outfits, like navy, etc. When it comes to a more laid-back, casual look, tanned moccasins can be the perfect choice with chinos and a loose-fit shirt. A high-quality belt can be a complementary addition to your overall look. 
Moccasins in the Summer
We must recall that moccasins were initially designed centuries ago with the purpose of comfortable shoes in mind. And that property has remained constant over the years leading up to the shoes being designed today. You can easily pair your moccasin shoes with shorts and a polo shirt. But having shoes as timeless as these, you need to carry yourself with style, which means dressing up in the right colors.
One of the age-old questions people usually ask is whether you need socks with moccasins or not, since summer isn't a season to be wearing socks. Honestly, it all depends on your outfit. With a more formal approach, you may need to wear socks, while being casual you may not require any at all. Giving your feet the space to breathe is always a good choice, as long as you know how to style your outfits. 
Due to a comfortable leather fit, these shoes need proper care to be as durable as history states they are.  Mostly decorated with embroidery or tassels, these shoes come in many different styles and designs, and are worth investing in when you're choosing smart casual men's footwear. Find more of these and other products in men's fashion on FHS.