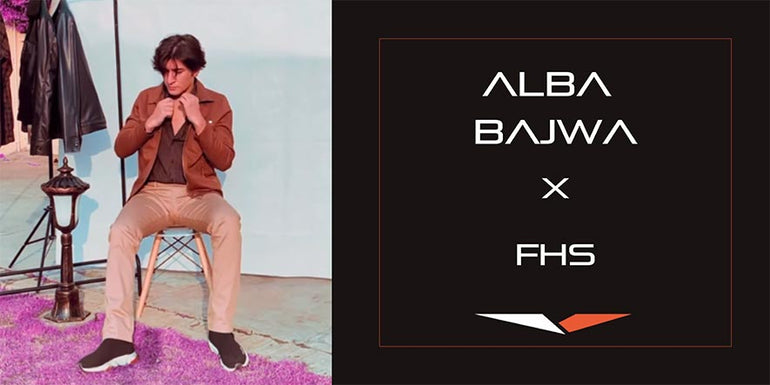 FHS is a brand that encourages self-expression from its audience through our smart casual fashion collection. The clothes you wear are a part of your identity, and the ways you present yourself through them are how people perceive and form impressions about you. This self-expression comes in many different forms for many different people, from their choice in outfits to the blend of colors they choose to wear, and then there are those who combine both of these in such a creative and artistic manner, that it showcases their unique sense of style and aesthetics in a way you can't ignore. Recently, FHS collaborated with one such person, an influencer who doesn't shy away from showcasing his artistic style in his content: Alba Bajwa.
Alba Bajwa, having worked with different fashion brands, local to international, has created different forms of content, from photos to videos. And in all those projects, he has executed different trends and styles in an aesthetically creative manner. Our aim to collaborate with him involved bringing that unique touch of creativity to FHS, presenting something new through our content when it comes to showing our winter collection and the trends one can set through them.
Our previous smart-casual collections were mostly aimed at grown, experienced, and professional men. But with our Ace & Protégé winter collection, we wanted to portray FHS to be as relevant for the youth as it is for adults. And since Alba is young with an impressionable audience that picks these cues easily, he was the ideal choice for this collaboration. Keeping this in mind, we handed most of the creative control to Alba so that he could play with different filters, positions, and frames of his choosing, while also being artistic in how he portrays it all. The video displays our winter jackets, new arrivals, and some new looks that Alba created by bringing in all these elements together.
With this video, we had two main goals; one was to showcase our winter collection as well as to introduce the new merchandise, to provide a look at how one can carry those outfits in a manner that's stylish and true to their fashion preferences. Our second goal was to attract the audience's attention, and the way Alba creates his mood boards by presenting his content in front of his audience, seemed like a flexible way for us to attract views from people that follow him and lead them towards FHS through his creative work, giving us access to an audience that we can't usually reach through just our own page.
We didn't want this collaboration to go out of touch from our brand persona either, hence it's not too loud. But if we ever get to collaborate with him again, we'll try to experiment even more with a much different route. If you want to shop our winter collection, visit FHS Official.