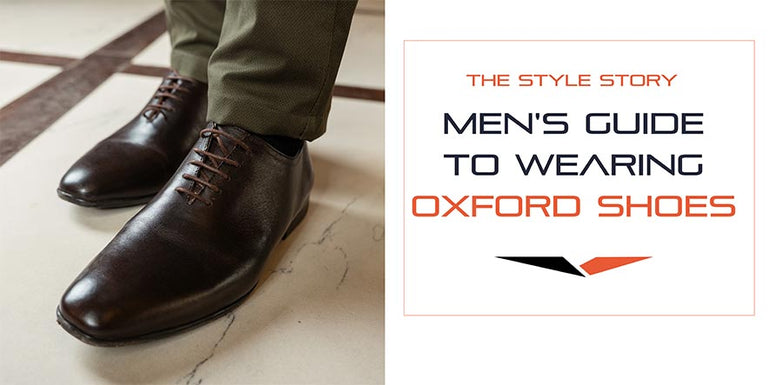 FHS is a brand that prides itself on its smart-casual collection for men. But that doesn't mean we won't look at the occasional premium choice of outfits that are especially suited to businessmen and professionals. And there is also a time when we suggest you go for a smart-casual look but level it up by giving it a slightly formal touch. This can happen through your outfit style, accessories, or the shoes you're wearing with your outfit. And when it comes to shoes, we've covered different types of shoes for men in our collection, but today, we'd like to focus on one particular type: the Oxford shoes.
The Oxford shoe originated from the Oxonian Shoe, i.e. "half-boot", which was popular among the students of Oxford University back in the 1800s. But some believe these shoes originated around Ireland and Scotland, where they're called Balmoral shoes, after the "Balmoral Castle". Whatever their origin, there's no doubt Oxfords became famous during the 18th and 19th centuries.
Oxfords aren't your usual type of shoes; their closed lacing system defines them. The initial design for Oxfords was a plain shoe made of leather materials. But with time, this design evolved significantly, now including a broader range of fabrics and varying styles that make it a perfect choice for our smart-casual collection to a more formal range.
In this blog, we'll provide you with a guide on how you can wear Oxford shoes, from different colors to different outfits to different occasions.
Color Guide
Black Oxfords
Black Oxfords are a must-have in every man's wardrobe; the first choice when it comes to business attire. These shoes are versatile shoes when it comes to all of your outfits, as black is a color that matches well with almost every color of clothing there is.
Brown Oxfords
Brown Oxfords are much suited to be worn with navy or grey-colored outfits. One of the most stylish choices when it comes to your shoes, brown is a color preferred a lot more for special, formal outings than business meetings, and they're much better at visually standing out as well.
Tan Oxfords
With their dark to light shading, tan has become a very popular color in men's footwear. Tan is a very simple choice to make, as these shoes go with almost every color of outfit you own. They're excellent for less formal, more casual looks; pair them with chinos or denim, and you get a perfectly-tailored look to make your style statement.
Outfit Guide
Jeans
It's true that Oxfords are shoes much suited as dress shoes, but that doesn't mean you can't occasionally pair them up with your denim outfit, as long as you know how to make this combination look good. And when it comes to looking good, tan Oxfords may go best with blue jeans, while brown or black with darker shades.
Chinos
For your smart casual look, pair your Oxfords with chinos and keep the color combination coordinated for a more sophisticated style. You can also choose the shirts you want to wear according to either long-sleeved shirts or short-sleeved shirts.
Pants
With their sleek and stylish design, these shoes are perfect to be paired with formal outfits. So whether you're planning to go to any formal event, an important business meeting or a special cocktail event, Oxfords can be the best choice, either with suit pants or trousers.
When to Wear Oxford Shoes
Smart Casual
Oxfords can do wonders for your smart casual outfits, so long as they're paired with a casual outfit that works best with the shoes. In this case, chinos or dressy jeans can be good to go for. And you can top this off with something chic and trendy on top, like a button-down shirt and jacket.
Formal
With their polished design and sleek appearance, Oxfords are perfect for all your formal outfits. A few tips to remember, though, can help you achieve an even better, sophisticated look. Firstly, remember to buy slimmer Oxfords, as they're a lot more formal looking than those with greater width. Secondly, black leather Oxfords are perfect for a completely formal look.
This was our guide for men to wear their Oxford shoes and pull off their looks perfectly. FHS has a wide variety of Oxford shoes to choose from, you can visit our stores or shop online at https://fhsofficial.com/.