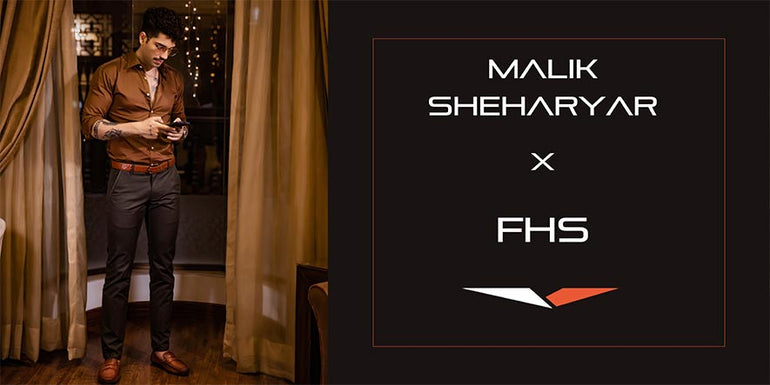 Being a brand that's popular for its smart casual outfits and with the launch of our winter collection in mind, FHS recently collaborated with one of the most infamous names in the fashion industry, Malik Sheharyar. A man with a groovy and stylish fashion statement, Sheharyar is a guy who knows our brand very well and can personally vouch for the quality of the range we offer. So let's dive into what the collaboration was all about.
Visiting our Packages Mall store in Lahore, Malik Sheharyar had a lot of tips and tricks to share about how you can combine different outfits to make a style of your own, while also talking about the high-quality range of products available at FHS.
Talking about his preferences when it comes to the FHS collection, Sheharyar shared what he loves the most about the brand, the variety offered at our stores, and the ongoing seasonal trends we've brought into our latest collection. He goes on to demonstrate how you can mix and match different shoes with your different outfits, and what works best for you, from smart casual to formal wear.
In his second video, Sheharyar tries on different outfits, and combines different looks with each other, giving you a unique idea of how you can fit your outfits according to your fashion statement. Along with all this, he also dives into how you can carry yourself as you go for a smart casual look. It's a very stylish and aesthetic shoot where Sheharyar demonstrates the different products available at FHS and how different people can match different styles to make up for their outfits and unique fashion taste.
The reason behind collaborating with Malik Sheharyar is that he's a model who has a funky and unique style of presenting different themes of fashion in his own aesthetic way. This can easily be seen through his different shoots, with his groovy moves and sense of fashion, and his history of having worked with different men's fashion brands that became quite popular.
Malik Sheharyar is a guy that many young to old people look up to for a better idea of what style they want to adopt in their outfits and how they want to carry themselves. And with our contemporary winter collection, highlighting products for both youth and adults, Sheharyar was the best person to collaborate with, as his eccentric approach to fashion appeases all the age groups we're aiming to target.
So this was all about the collaboration we did with Malik Sheharyar. We hope you had as much fun reading about it as we did while working together on this campaign. If you're looking for winter casual outfits to match your wardrobe collection, visit FHS Official for more products, accessories, and options for yourself.