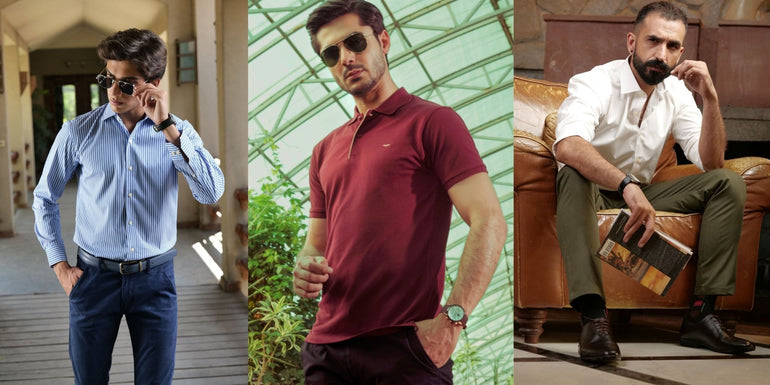 Here at FHS, we recognize the importance psychology plays when it comes to men making their wardrobe choices, and the huge role color plays in that regard. The clothes you wear say a lot about your personality; they send strong signals to the world around you about the kind of person you are and the self-image you want to present outwardly.
There have been a number of different studies done to find out the impact our clothing choices have on the way we perceive each other, with an emphasis on how subtle variations in style can impact who we do or don't socialize with. It's reported that the more powerful we perceive a certain type of clothing to be, the more powerful we end up feeling. And the color of our clothing tends to have more or less the same impact.
Hence, the color of your wardrobe ends up sending signals to your brain and makes you feel certain emotions. Wearing your personal choice of neutral colors can make you feel safe, while wearing bold colors is associated with feelings of extroversion, excitement, and lively. Of course, there is a subjective element to how one perceives colors, depending on their mood and cultural roots, etc. But a lot of these associations are followed generally across the globe. Keeping this in mind, we have drawn out a list of colors and what it means for your own wardrobe style.
The Colors You Wear and How They Define Your Style
About 2,000 years ago, many cultures used colors as a way to heal one's mind and body. Today, this same treatment exists in the form of chromotherapy, proving a strong relationship between therapy and colors. With such a strong impact of colors in creating a positive space around us and influencing our mood, this same principle can be applied to defining the color of our wardrobe and, in turn, our overall style. Let's have a look at some of our colors and what they could mean for your personality.
Black - Elegance
Black is a color that evokes elegance, authority, and sophistication. It also involves a gothic touch to it, making it a good choice for anyone from young to adult. It gives a slightly formal feel to anyone wearing it, making it the perfect choice for a man's professional and black-tie events. At times, people wear black as an indication of mystery and secrets than sophistication, but we believe it should be worn to provide a slight look into one's personality, not to hide it entirely. Overall, black outfits should make up to about 10-13% of your wardrobe, not an entire description of your personality but adding enough of an elegant touch to it to complement your style.
Gray - Balance
Gray is mostly associated with practicality, neutrality, balance, and a conservative look. It's much better used as an overcoat or a jacket rather than an entire outfit. Gray is more of a non-color, making it suitable for shoes and jackets that need to be matched with your overall outfit. The color is a classic that goes best with neutral colors, making it versatile in its every shade, from charcoal to light gray.
Blue - Positivity
Easily the most popular choice when it comes to men and their wardrobe, according to us, about 30% of your wardrobe should be blue with slight themes of navy blue, true blue, and indigo. Blue is a serene color, with the lighter shades representing a positive, reliable, and inviting personality while the darker shades are associated with responsibility and honesty. Overall, we believe blue is a safe choice to go for when it comes to important events and special outings.
Brown - Comforting
Brown should make up about 15% of a man's wardrobe, including tan and khaki, associated with the reliable, comforting, and rustic traits in one's personality. It's a very casual color, perfect to match with other tones present in your wardrobe like white, etc.
Red - Bold
Red is very famously associated with boldness, courage, and dominance. It makes one come off as energetic and aggressive. According to a study, red also makes a person come off as persuasive, adding up to your ability to influence other people's decisions when you're negotiating with them. All in all, it should make up about 5% of your wardrobe.
Pink - Youthfulness
Energetic, youthful, jovial, and fun, pink is a color strongly associated with the youth. The color is a slightly toned-down version of red, making it perfect for young adults and teenagers. About 2% of your wardrobe should consist of pink, especially if you're an outgoing, lively, and youthful person and not shy of showing off this trait in your personality.
White - Confidence
Easily worthy of making up to 25% of your wardrobe, white signals toward confidence, hygiene, and virtue. While it's classic as a dress shirt or formal shirt, when it comes to jackets and overcoats, you'd be better off choosing off-white or cream-colored tones. White is best worn during important business meetings or to give off a sophisticated and confident look.