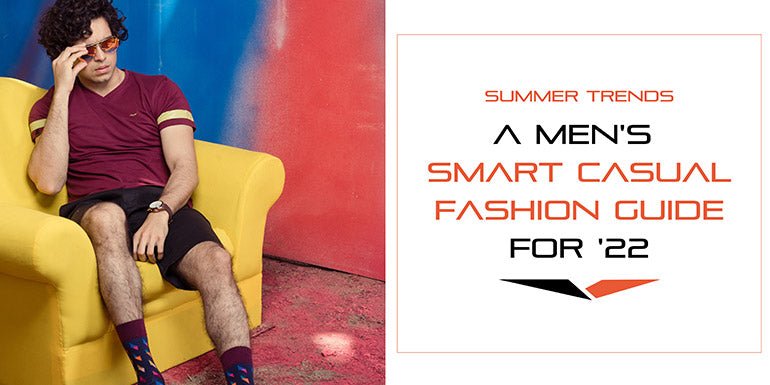 When it comes to men's summer wardrobe, a big problem takes shape in the form of having to choose an entirely new and comfortable outfit every day. This can overwhelm a lot of people and most men can even choose to retreat to their comfort zone of clothing i.e. a t-shirt and jeans. And while there's nothing wrong with going back to your comfort zone occasionally, you don't need to constantly do so every day. Adding a touch of chicness to your outfit doesn't hurt. In fact, it can end up making a positive impression on those around you. And this is where smart casual fashion comes in.
We know that summer is a season that asks for a light, easy clothing choice that makes you feel comfortable during the warm weather conditions, without really taking anything away from your personal sense of style. Hence, more than focusing on formal ways of styling one's self, smart-casual clothing focuses on the right blend of comfort and trending styles. 
In that sense, this is one of the best ways for men to properly express their fashion taste while being comfy at the same time. So, whether you prefer a more elegant and sophisticated way of dressing up or a down-to-earth, easy-going style, a properly planned smart-casual wardrobe can be a simple solution to it all. 
And speaking of smart-casual clothing, no one brings you as versatile a choice as FHS. For us, men's fashion is all about creating that perfect balance between trend, comfort, and individuality so that, instead of coming off as a mismatched set of clothing, you end up with a style of outfit that perfectly describes your personality while adding a sense of excitement and elegance that your wardrobe might otherwise lack. 
That being said, we've come up with a guide to help you choose the perfect outfits this summer that goes with this year's trending styles while also giving you a variety of choices that you can look and feel comfortable in.
Summer '22 Smart Casual Fashion Guide for Men
Formal Shirts
Nothing describes a smart yet business casual look quite like formal shirts. They're the ultimate style you can easily pull off while at work, at a formal dinner, or at an important meeting. And this shirt becomes even more important when you need to have a quick video chat with business executives while on a vacation. The fabric of the FHS formal shirts collection is carefully designed with 100% cotton fabric to make them comfortable yet lightweight for you to easily pull off, and we have a versatile color collection to make them an easy choice for any occasion.
Denim Shorts
Aren't you exhausted from playing it safe? It's summer! This is the time for you to go on a break, plan a vacation by the beach, and enjoy an easy, laid-back time without worrying about a schedule. And we have the perfect choice of outfits for you to pull off during this time, a staple for men's clothing - shorts! More specifically, denim shorts. Whether you wear them with your dress shirts or match them with a polo shirt and sneakers, denim shorts are the ultimate look you want to pull off this summer. A comfortable yet stylish choice for every man who isn't afraid to break the barriers of their comfort zone.
Chinos
Denim seems easy, but it also fails to match the vibe you're trying to pull off, especially when you have a busy workday ahead full of one meeting after another. Or you're attending a formal event where denim just doesn't seem to fit the mood. That's when chinos come to your rescue. They're a versatile choice and can be styled with any color of a dress shirt, may it be dark or light. The traditional colors include beige and navy, but you can always add your own touch to the chromatic ensemble you opt for from the FHS summer collection.
Jog Pants
Tired of chinos? No worries. We have another option for you to pull off with ease, i.e. jog pants. A comfortable and stylish fit for any occasion, jog pants can easily be matched with the right colored v-neck or polo shirt and the right pair of shoes to make your outfit complete. 
Moccasins
Now that you have carefully picked your outfit, you must be confused about which shoes to wear. Worry not! Moccasins are still the trending choice for every man when it comes to their smart-casual wardrobe. Pair them easily with your formal clothes or wear them with your polo shirts and casual shorts, moccasins are a versatile option for men on any occasion.
Sneakers
More relaxed than your oxfords or moccasins, sneakers sit perfectly in the smart casual wardrobe collection. Perfect for dressing down, sneakers can easily go with most of your casual outfits as long as you know how to pair them and don't overestimate their importance for your formal looks.
Polo Shirts
When it comes to smart casual clothing, Polo shirts are a necessity. An easy-going choice for your workdays or weekends, polo shirts are the most versatile choice you could have in your wardrobe for any event, especially during summer. Wear your polo with a pair of sneakers and the right fit of bottoms for the perfect look. Have a look at the FHS polo collection for your outfits.
This was our guide for men's smart casual fashion collection for summer '22. Remember, as long as you know how to pull off the outfit you're wearing without compromising on your comfort, you should be good to go on any occasion. For more updates, check out the FHS Magazine.