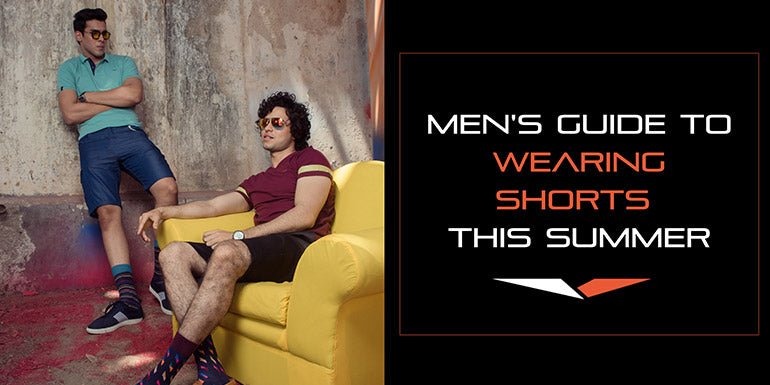 Should men wear shorts? It's an age-old debate that a lot of people argue about, they might be right in their logic, or they may be wrong. But at FHS, we believe that everyone has the right to express their individuality however they want to, and if shorts are the way you feel like doing so, then shorts are what you need in your wardrobe. 
So, if you're a fan of putting on a pair of shorts while going to the beach, or showing off your calves on a casual outing by wearing chino shorts, you've come to the right place. In this article, you'll find a detailed guide on when you should wear shorts, the right fit, the kind of shorts you must have, and how you can pair them with different outfits. Read below, and learn from what our experts have to say about styling shorts appropriately. 
When Are Shorts Appropriate?
Almost a century ago, or even lesser time than that, wearing men's shorts was frowned upon. Though the world we're living in today isn't as openly accepting of this idea, people are still a lot more flexible in how they perceive the way men dress. But that doesn't mean you need to be wearing shorts on the wrong occasion i.e. if you wear shorts to a formal dinner, that may not be such a good idea, and so on. 
Hence, it is suggested that you wear your men's shorts at a picnic or even on an outing with friends and people you're comfortable with. But of course, context matters, and what matters even more, is the nature of the place you're at. If your office isn't a corporate workplace, but a startup related to entertainment or recreation, shorts may not be such a bad idea, especially on a workday when you don't have important meetings, and if your coworkers encourage this business casual dressing style.
Moreover, the kind of shorts you wear and the overall look you match it with, add more to the personality of your entire outfit, think about that and plan appropriately. Are you wearing chino shorts? Is the color of your outfit muted or too loud? All of this, combined with your level of comfort and the comfort of the environment you're in, are things you should consider to decide if shorts are appropriate on that respective occasion.
The Kind of Shorts You Need in Your Wardrobe
Cargo Shorts
These loosely cut shorts, with large pockets on either side, are a flexible and comfortable option that can be worn with any pair of shoes, from sandals to sneakers. The bulging appearance of the pockets on these shorts may seem unattractive to some men, but that shouldn't stop you from investing in them if you think they match the style you want to portray. We would suggest going for a style that ends above the knees than one slightly below it, but we'll let you make that call.
Chino Shorts
A lightweight pair of cotton shorts, and chinos come in a lot of colors and lengths. These shorts can easily be chosen for your business casual look, and are perfect on a summer workday that involves you going out for errands.
Jersey Shorts
Recently, sportswear has had a major influence on men's wardrobes; hence, paying homage to that, jersey shorts have now become a thing. So if you're someone with a strict following to current men's fashion trends, having a few pairs of jersey shorts in your closet may not be such a bad idea, especially if you go to watch games in stadiums and are a staunch supporter of a sports team.
Denim Shorts
Whatever the outfit might be, denim is a welcome choice; it's familiar, comfortable, and can be worn with almost any shirt with ease. Though they might not be for all occasions, denim cut-shorts are perfect for a walk in the park during the summer, or a visit to the grocery store.
Pairing Your Shorts with the Right Outfit
Polo Shirts
Polos are perhaps the most versatile choice for summers, perfect for office wear, smart-casual looks, or a day at the golf club. The best kind of shorts for polo shirts would be dark-colored denim or chinos. Though, in these pairings, the color of your shirt will make a huge difference. So don't pair your beige chinos with a white polo shirt or dark denim with dark polos. Go for a more colorful look with a fusion of light and dark in the same outfit.
Button Downs
When it comes to cargo shorts, button-down shirts are a good option. They complement the bulky look of cargo shorts and match the outfit you're trying to pull. You could even wear them with a t-shirt and jacket on top if the weather allows you.
Oversized Shirts
Oversized shirts are more or less a safe haven for any summer day at the beach. Best worn with denim shorts, your oversized t-shirts can be light in color to make your shorts stand out and make you feel cooler in the hot weather, or you could easily wear darker colors if that's what you're comfortable with. 
This is our guide to help you choose the right shorts and pull off the outfit that blends with your personality. When it comes to wearing shorts, just remember what we've told you everything above about the fit, occasion, and the overall outfit you're choosing. If worn at the right time and in the right way, shorts are the best choice for summer. Want to know more? Visit FHS Official.