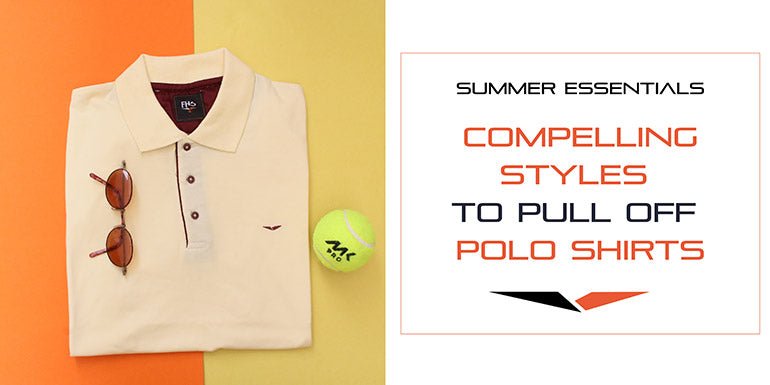 Imagine you're going on a road trip with your friends, the weather seems pleasant enough, but you also know that it's unpredictable; it could be windy one second yet the next second it may become so warm that you'd regret leaving the comfort of home. With this doubt lingering in the air, what would you want to wear? A button-down shirt that could become too much in the humid weather? Or a t-shirt that might feel too laid-back to beat strong winds? Although, this confusion shouldn't exist if you have a versatile option like a set of polo shirts in your closet - a timeless and comfortable classic in men's summer wardrobe. 
Introduced as tennis shirts during the 1920s, this piece of clothing was worn mostly to play Polo. By the 1950s, everyone started calling them polo shirts, and that's how they got their permanent name. A relaxing choice for the warm weather, they're a versatile substitute for the regular t-shirts; formal enough to be worn during professional lunches and casual enough to be pulled off on any occasion.
The best thing about these shirts is that they can be styled with different outfit choices very comfortably, may it be chinos, shorts, or even blazers. At FHS, we have a high-quality collection of polo shirts that we match in different styles to give all of our clients the most comfortable experience that goes with their personality. Keeping that in mind, we're going to guide you on how you can style your smart-casual polo collection with ease, in this article.
Types of Polo Shirts
Classic Polo
Invented as early as the 10th century, the classic polo was the first piece of clothing that has button-down collars. Being a sign of revolution in men's wardrobe, this style can easily be worn comfortably even today. But for the sake of pulling off your smart-casual look, make sure the buttons don't sit so low that the shirt looks like a v-neck, and go for bold colors to really make your summer vibrant style stand out.
Long-Sleeved Polo
Though a choice best suited to colder months, there's no reason why you can't pull these off during the summer. A comfortable choice for casual to semi-formal outings, the long-sleeved polo shirt can easily be paired with chinos and sneakers to make your smart-casual wardrobe impress those around you. 
Short-Sleeved Polo
The most popular of all types of polo shirts, the short-sleeved polo works well with loafers, sneakers, dress pants, chinos, and jeans. You can wear this shirt in many colors, but for summer, going for bolder color choices like red and orange can really make your style pop in front of an audience. 
How You Can Pull Off Polo Shirts
Polo with Chinos
Chinos are a great outfit choice, in smart-casual as well as semi-formal looks. Pair them up with polo shirts, and you get the perfect style that can be worn on any occasion. Complete this look with derby shoes for the ultimate fashion statement that describes your personality.
Polo with Shorts
Darker shade polo shirts with khaki shorts are a style you can pull off on any casual outing. A versatile and comfortable look for warmer days, this is the outfit you can easily choose when you're going for a strictly laid-back look.
Polo with Jeans
When you own a classic pair of jeans, you can make any outfit go with it, and short-sleeved polo shirts are the perfect match with the jeans you so comfortably wear. A style you can always carry with a pair of sneakers - washed-up jeans and a pastel-colored polo is the outfit you're looking for if you want to feel at ease during an outing.
Polo with Blazers
Going to dinner with your friends? Or want to pull off a business-casual look for your meetings? You can not go wrong by pairing your polo shirt with a blazer and moccasins underneath. A completely semi-formal look that provides you with the confidence you need, this is a must-have outfit in your wardrobe.
Polo shirts are necessary for men's wardrobe, and you need to have them in different light to dark shades of colour so that you can pair them easily with different outfit styles we've listed above. The key to pulling off any of these looks is that you should feel comfortable wearing the outfit, and it matches perfectly with the personality you want to portray; if that's the case, then you have created a style that blends with fashion trends, yet it's also uniquely personal to your own choice of wardrobe. 
Liked this? Read more from FHS in our magazine section and have a look at our smart casual men's collection.