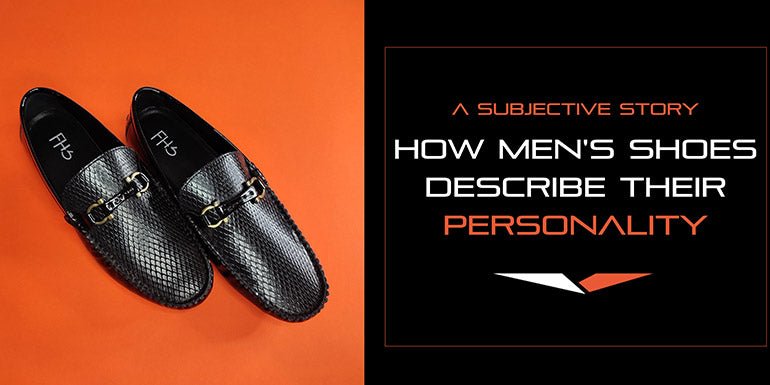 People say that the shoes a man wears say a lot about his personality. And whether you agree with it or not, no one can deny the fact that our brains are designed to form first impressions in about 100 milliseconds of meeting a person. Of course, shoes aren't the only visual cue that helps create that impression, but they do play a huge role in completing it. 
Research has proven that people do perceive and judge a lot about one's personality only based on the shoes they wear, let alone other outfit choices. A study done at the University of Kansas showed participants the pictures of individuals wearing different shoes and were asked to guess their age, income, social status, gender, etc. About 90% of the participants' answers turned out to be correct.
At FHS, we believe in not just manufacturing high-quality men's fashion collections, but also making sure their designs include touches of elegance and style that can match with one's personality in just the right amount. We believe shoes are a huge form of self-expression that showcases who you are to the world, whether consciously or subconsciously. 
Hence, today we want to focus on the kind of shoes men wear, and what they portray about their personalities. These shoes can be based on a lot of different aspects like comfort, style, practicality, and these considerations can end up forming a habit that leads to one's wardrobe choices. Read along, and you may find some glimpses of your own dressing style through the different shoes we're about to discuss.
Shoe Type and Personality 
Oxfords
The pair of shoes worn by socialites, Oxfords have always been associated with people who opt for the finer things in life and don't settle for less. Wearing them indicates that a person is classy, and not afraid to show it. It's a type of formal wear that can get you anywhere if you have the right kind of confidence to go with it.
Moccasins
There's a saying that goes as "dressed for success" and we believe it's been made for Moccasin shoes. A comfortable yet stylish choice, these shoes are specifically designed for men that lead any pack they're a part of. And as a leader, you're the go-to person for your team, whether people come to you for advice or opinion. And even if your personality isn't as open as that of an extrovert, you're still considered reliable and dependable.
Penny Loafers
The one word that describes penny loafers is 'versatile', and that's also the kind of personality these shoes are designed for. They're stylish, adaptable, and can fit any outfit, indicating the people of a similar taste, who are adaptable and flexible in any environment.
Sneakers
A pair of shoes associated with the youth, sneakers have become popular among tech geeks, though they're not the only ones who wear them. Sneakers are a comfortable choice for any smart-casual outfit you're wearing, and an especially good shoe choice for your more informal outings, though you can wear them at work too as long as you don't have to attend any formal meetings. These shoes describe the easy-going, playful, and youthful personality of someone who can interact with just about anyone very happily. So if your boss wears sneakers, you may be in for a very positive experience under their leadership. Though, we wouldn't force you to take our word for it. 
Of course, none of these descriptions are written in stone, you can still choose shoes without having them describe your personality word-by-word. But for the most part, they describe a lot to make up aspects of your personality and may even end up impacting how you feel at any given moment. So if you're going to a very important professional event, wearing Oxfords or Moccasins can help you out a lot. Similarly, wearing sneakers on a casual retreat can get you into a relaxed mood. 
This is all we have for now when it comes to describing men's personalities according to their shoes. Have a look at our shoe collection and pick what describes you best.