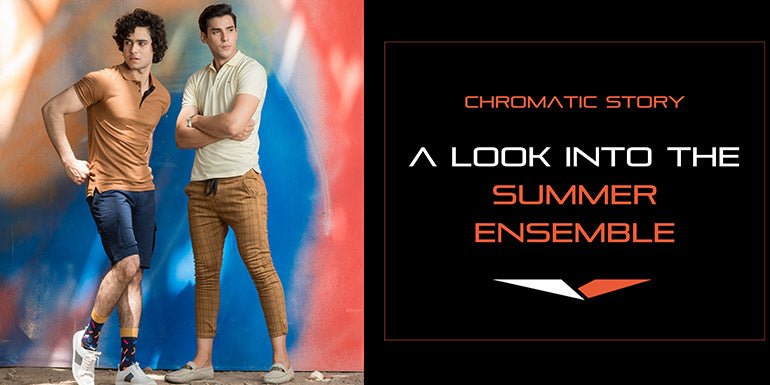 As winter fades away and the colorful vibes of spring start to pave a path for summer to emerge, everything in our lives also asks for some immediate change; our routine, activities, moods, right down to the decor of our room and the feel of our wardrobe. While we spend winters focusing on feeling warm and cozy, summer is a season that demands us to become more comfortable in our own skin. It's a season of vibrant shades and bold choices, whether it's in your lifestyle or your wardrobe.
The warm weather basically asks for two things: a choice of wardrobe that makes you feel comfortable and cool in the sunny climate and a colorful set of options when it comes to that wardrobe. But color is where most men get stuck since they can't really get over the dark and solid hues of black, gray, and white colors that they get used to during the winters. For this purpose, FHS has decided to focus on pure chromatic colors for the summer.
The chromatic color wheel has different schemes of color with various shades, hues, tints, and tones. But how you implement this wheel in your wardrobe depends on the warmth and coolness of different shades.
The Thought Behind the Ensemble
For our summer collection, FHS went with a much different look than what we've always portrayed in our brand, focusing on vibrant colors that pop to match a look that aligns with your summer ensemble.
As you can see in the summer look, 2 elements we've emphasized during our shoot that describe the entire collection perfectly are the rustic theme and old-school background. As anyone who has looked at our winter Ace & Protege collection would know, we want to connect with our younger audience as much as the older audience.
Therefore, with Summer Semblance, we've gone for vibrant, chromatic colors and looks that can appeal to the Gen-Z and young millennials as much as anyone from an older age group. Everything in this summer ensemble, from the outfits to the backgrounds, complements the youthful and rich vibes of summer that FHS wants to portray throughout the season. 
The Summer Semblance - Chromatic Ensemble is officially launched in-stores and online, you can find out more about the collection on our website, www.fhsofficial.com.