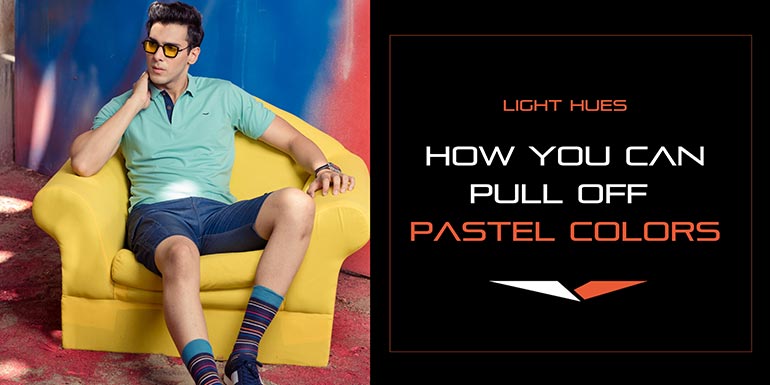 While we've all fallen in love with black, navy blue, and gray outfits in men's fashion, it's not wrong to say that a few softer pastel colors won't hurt in men's wardrobe. In fact, they'd be unique enough to get easily pulled off while also providing a new style to anyone who wears them so much that even a small shade of pastels, like peach or sky blue, is enough to lift your clothes from average to interesting. 
Pastels weren't always a term in the world of fashion or even painting; the word originated from art when it was discovered that these lighter shades of powdery pigment were much-suited to palettes than primary colors. In Renaissance Italy, pastels became a color of choice for artists like Michelangelo and Leonardo da Vinci. And their popularity rose ten-fold during the 18th century, evolving eventually to become hallmarks of Baroque styles.
All the credit for their popularity, though, belongs to Marie Antoinette, after whom the colors became associated with warmth, softness, and feelings of love. From then to now, though, pastels have matured as a color choice for clothing, especially men's clothing. And they're a lot more faded in hue, more so than usual pastels, and adding them to your seasonal wardrobe will definitely bring some upgrade to how you dress.
How Can Men Style Pastels?
Formal Wear
While baby pink or lavender may not be the first thought in your mind when you think of formal dressing, you will be surprised how much these colors can pop up in your wardrobe, especially if you're wearing them to a special occasion like a wedding, etc. You can easily break the monotone black and navy blue color collection in your closet by adding a little mint green and canary yellow. And even if you're not comfortable with an entirely pastel formal outfit, you can choose accessories like ties in pastels to match your outfit to make a unique statement.
Casual Wear
Pastels in your smart-casual outfits are a lot easier for a lot of men to accept than in formal wear from polo shirts to casual v-necks and light-colored jeans and chinos, pastels are the new choice every man should be looking into. Casual t-shirts in turquoise and sky blue colors are a good way to start your pastel color journey through the summer, and you can even pair them with darker shades of bottoms to make a complementary color code to follow throughout this season.
Tips & Tricks to Make the Right Wardrobe
Match Two Pastel Tones
You don't need to wear an entire pastel outfit, it would make you look odd and stand out in all the wrong ways. What you can do, instead, is wear two different tones of pastels, choosing two pastel colors for your outfit can make you come off as sophisticated and classy instead of someone who's trying too hard. 
For e.g. a lemon yellow t-shirt with a t-green button-down. Or you could even pair lavender with a light shade of pink. Don't shy away from taking risks in your smart-casual outfits, today's fashion is all about taking that risk and coming up with your own style blends that make your personality stand out.
Keep The Rest of the Outfit Neutral
Once you've chosen the two tones of pastels for your outfit, you can pair them with a neutral color of bottoms, like navy blue or white, or even black, as long as it matches the look of your entire outfit. And then a pair of classy moccasins to complete the overall look. Opt for minimalist designs that keep everyone's focus entirely on the colors you're wearing and how perfectly you've paired each piece of your outfit.
Pastel Accessories
If you're a man who loves monochrome in his wardrobe, the best way for you to start with pastels would be to choose pastel-colored accessories. Pastel accessories are a risk-free method of experimenting with new colors without having to get out of your immediate comfort zone too soon. This will add a pop of pastels without changing your outfit style too much, and even allow you to observe whether this experiment can be taken further or not. 
This is our guide for men to wear pastels during summer. If you want to know more, visit FHS Official.