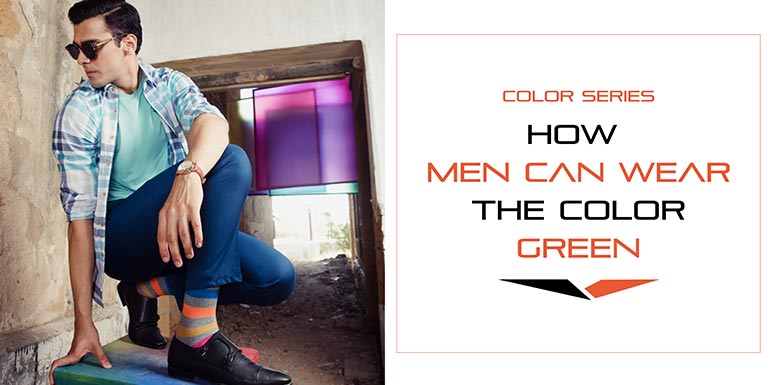 We've already discussed a little about monochromatic and chromatic colors that men should or shouldn't wear, we've even shed some specific light on how men could wear yellow in summer. But this time, we want to shift our focus to an old, yet relatively forgotten color in men's wardrobe: green. 
First, let's make it clear that simply using the term "green" is an oversimplification of the color itself; there are a lot more shades and tones that fall under the umbrella of what men simply refer to as green. This color overall is associated with charismatic and charming personalities, with a touch of serenity and softness, and that's who you think you are, this is the right place for you!
For you to wear green, though, you need to decide which shade of it you want to wear and to what extent. In this article, we're going to focus on just that! So stay tuned and read ahead.
Lighter Green Uppers
Green can seem a little tricky to wear, but on most guys, this color pops out from the mainstream and gives them a new look to carry than the same old black, white, and navy tones. Furthermore, wearing lighter shades in the warm season can help you look and feel a lot cooler than usual, giving you an easy choice of colors and outfits to pull off in this weather.
It's also commonly said that light green is a color that represents the light-hearted, full-of-life individuals who don't mind showing off an earthy, natural vibe through the way they carry themselves. So if this is what you want to portray, lighter shades of green are definitely your color.
Olive & Camo Bottoms
While camouflage was first introduced as military clothing, it gradually found its way into men's fashion trends and is now a favorite among those who love to show off a more laid-back ensemble. The best way to wear camo is through your jog pants when you're planning to spend a casual day at home or out running some minor errands.
Another option for men to wear green in their bottom collection is investing in olive-colored formal pants or even chino pants. A need for every man's wardrobe, olive pants can easily be paired with a bunch of different colors from white to navy blue and provide you with an easy choice in professional as well as smart-casual looks when the occasion arises.
Minimally Accessorized Green Hues
If you don't want to spend all your money buying green outfits that you doubt may not even work for you, go easy on yourself and get a few minimal green accessories to go with your casual outfits. From shades to dark-green ties, olive-colored wallets to belts, there are plenty of choices that you can invest in without worrying about whether they will be a good match for your style or not.
Go for the Perfect Combination
While some may think green has a limited number of options that men could style, we're here to tell you that's not entirely true. There's such a versatile amount of shades one can pair with green, that too with different tones of green, that you may end up turning your wardrobe into a green color palette. 
You can easily style your darker green suits with beige-colored bottoms to make the suit's color pop out, or you could pair your emerald green tie with a navy-colored suit to make an impression while wearing it on a special occasion. Another color you could easily pull off is turquoise with a light blue upper flannel.
There are also plenty of options available when it comes to dark green or olive shoes, from moccasins to oxfords and loafers. Wear your green-toned shoes with your smart-casual outfit while going for lunch or pair your olive oxfords with your dark-colored formal wear to make your fashion more profound. Whatever you choose, make sure it goes with your outfit, and get a few second or third opinions to make your style more authentic. 
What's a Huge "No" when Paired with Green?
Yes, there are many colors that go with green and amplify your fashion taste. But there are equal chances that you'll go very wrong with the outfit you put together for your green color obsession. 
One such error comes with pairing green with red, because while the former is a cool color and the latter warm, you should see for yourself the disconnect pairing the two will create. They just don't go together. Maybe some rare green hues could match with some red hues, and that's a huge maybe, overall, these two just don't belong together. 
Another color that should be avoided while wearing green is orange. If you look closely at the color wheel, orange is somehow another form of red in more ways than one. And it just doesn't pair well with green. 
This was the FHS guide to how men can wear green this summer. Remember, take note of what's worked for you in the past and bring a twist to that without straying too far off from your usual style. This is the best way to wear any color and any outfit without feeling uncomfortable in your own skin. For more on men's fashion, visit the FHS Magazine.