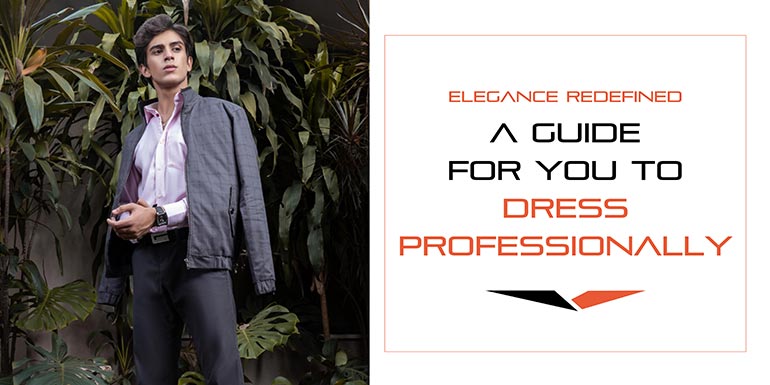 Only a few years ago, the professional dress code for men was a lot more rigid and confined to suits and other kinds of formal wear. And while they're still a more preferred choice of clothing for people working in the finance sector or at higher job roles, it's not the norm to dress like a business executive at all times, even if you are actually a business executive. 
Men's fashion has become a lot more laid-back and with it, professional clothing has started to blend with smart-casual styles. This isn't a bad thing, since the more flexible choices you have in dressing, the more you can openly express your individuality. FHS also understands that it's important to dress the part, even if you don't want to necessarily go for too formal a style. Because no matter how casual you want your fashion to be, you still need to look professional enough to come off as intimidating and ethical.
Below, you can find a guide to how you can dress professionally while still boasting your individual personality and sense of style.
Essentials to Dress Professionally
Business Professional
Men's fashion may have become laid-back but that still doesn't reduce the importance of a formal shirt, dress pants, suit, tie, and a pair of formal shoes. However, you can always add a touch of uniqueness to this attire as and when the occasion demands it.
Formal Shirt
When it comes to your professional wardrobe, you need to have a few timeless class shirts and make sure they look and feel good enough to provide you with confidence when you wear them. You want your shirt to have a substance that sets it, and your style, apart when you wear it. Check out FHS Official for a variety of formal shirts in every color that redefines your professional wardrobe.
A Pair of Oxfords
Though derbies, monk straps, and loafers are all versatile in their nature to provide you with a high-quality sense of style when you wear them with your professional outfits, the class and sophistication which Oxfords bring to the table is undeniably unique and representative of the modern man.
Tie
No suit is complete without a tie that complements the entire outfit and sharpens the business professional look you're trying to pull off. Whether you wear a black tie with your white dress shirt and black suit, or a navy blue tie with your navy blue suit, you need to match the color with the wardrobe properly to show off your style and personality in the best way.
Business Casual
While suits are for more formal, classy looks, you can always switch to a more casual, comfortable outfit on the days you don't need to impress anyone and are just going to sit in front of the laptop and collaborate with your team. On such days, a business casual outfit with the right kind of shirts and chinos can be the best choice.
Polo Shirts
For more laid-back workdays, polo shirts are the best option. They're classy enough to showcase your personality, simple enough to be the right level of stylish, and comfortable enough to make your day easier to get through, no matter the workload. If you're looking for a more versatile set of colors in your polos, visit FHS official for our summer collection.
Chinos
Tired of the formal dress pants and want to switch to something more simple? Chino pants are here to help you out! A comfortable yet stylish option, Chinos can hype up your style and give you enough color choices to make them applicable to any outfit you choose to wear on any day, from t-shirts to polos
Moccasins
When it comes to business casual clothing, moccasins are the best pair of shoes to bring sharpness to your look that isn't possible with sneakers or casual loafers. They're classic, yet casual enough to help your outfit come off as just the right amount of casual while also dressed professionally enough to be intimidating. 
Whatever you choose to wear to work, from business professional to casual, you need to care about how you look. Let people know that you're not joking around when it comes to your fashion taste, and you know exactly the kind of wardrobe you need to make your personality stand out from the crowd. If you're looking for more in men's fashion, visit FHS.