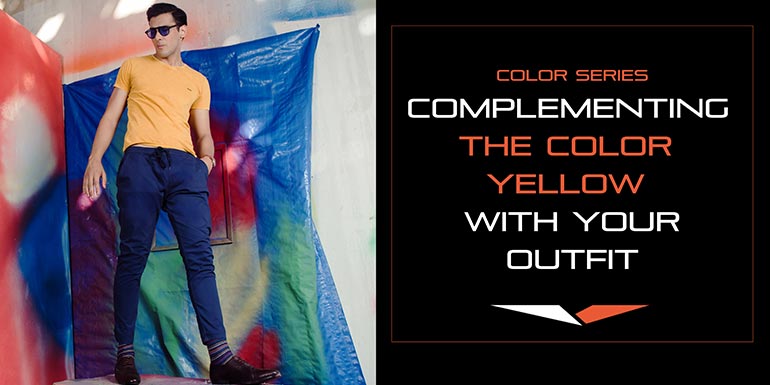 How to complement the color yellow with your outfit
White. Black. Blue. These were the colors men's wardrobe was limited to only a century ago. But as times changed, so did men's fashion and gradually, colors other than the three major hues started becoming a part of men's clothing collections, allowing them to make bolder, more personalized fashion statements. One such color comes in the form of yellow. In this article, we'll provide you with a detailed guide on how men can complement the color yellow through their outfits. 
Let's talk about yellow itself for a minute. A color mostly ignored or avoided by most, yellow is actually the color associated with fun, outgoing, and expressive personalities. It's the color of people with deep imaginations, energetic vibes, and an optimistic outlook on life. And if you're a man who would love to boast about these traits in his own personality, yellow is definitely the color you should be wearing more of. 
But we also understand that while this color may be associated with fun, there also comes a certain risk to wearing it in the form of a hit or a miss. So whether you should be wearing yellow, how much of it you should invest in, and what you need to match it with are all questions we have looked into, and come up with the guide below to help you out efficiently.
Start Minimal
If you've never officially invested in yellow smart-casual outfits, you may want to start in the form of accessories minimally. For this, choose ties that fall on the scale of yellow color while wearing your formal suits. Of course, it's important to make sure the pastel yellow of your tie actually goes with the overall look and feel of your suit. Hence, you'd need to wear a navy-colored coat complemented by the yellow of your tie. 
Other than that, you could also invest in socks or beanies of yellow color during winter or autumn, or if you're going for an extra formal look, for a wedding or another event, you could even look into yellow waistcoats to match with your look. 
As you gradually add yellow to your wardrobe in the form of accessories, you'll get more comfortable with the color, and then the idea of wearing yellow won't seem so bad after all.
Go for Yellow Outfits
Now that you're more or less comfortable with the idea of yellow in your wardrobe with the use of accessories, you might want to enter the next phase i.e. invest in yellow-colored outfits. You don't need to make all your shirts and bottoms yellow (please no), start with a few t-shirts of pastel yellow colors, from your polo shirts to v-necks to even formal wear. Whatever the outfit style, the color should belong to yellow's family without being too loud or overwhelming. 
Though, even if you do choose to go for louder yellow tones, make sure you're ready to pull off that bold color because this isn't a choice for everyone. If you're going for yellow chinos or jog pants, we'd suggest choosing a more pastel tone so that you look good, make a bold statement, yet not wear your style off on anyone. 
Colors to Match with Yellow
Now that you know which yellow outfit you're going to wear, it's time to consider the combinations you need to match them with.
Yellow & Blue
The most obvious choice when it comes to color combinations, yellow and blue have been designed to match each other. Whether you're wearing a yellow shirt with blue chinos, or an overall blue suit with yellow accessories, rarely do any two colors complement each other the way these two do.
And the best part is, there are an infinite amount of blue hues to match with different tones of yellow without making your style repetitive or redundant. We suggest you go for a yellow t-shirt with dark navy bottoms and a pair of moccasins to get a complete look whether it's for a casual outing or a formal meeting.


Yellow & Black
Perhaps the next best choice of colors you'd invest in after blue, the yellow-black combination will make your subtle yet chic style come out in the best ways. Wear a black suit and pair them with yellow accessories, or a yellow shirt with black chinos and loafers, there's an endless amount of choices for you to pick and look good in.
Yellow & White
Another refreshing choice when it comes to men's outfits, yellow and white are both part of a similar, lighter-toned color collection that would be perfect for a hot summer day. You can easily wear a yellow polo shirt with white-colored jog pants while running errands or even going to lunch with friends, as long as you're comfortable without compromising on your style.
Yellow & Burgundy
Nothing says bold like matching your yellow outfits with burgundy. If you're looking for a different hue in your chromatic ensemble, this is definitely the color palette you should be paying attention to. And what's more is that it will go well with all your formal to casual events, as long as you know how to style your outfit.
Choices to Avoid Matching with Yellow
We know that we've spent a good part of this article telling you to invest in yellow as a fashion choice, but there's fashion and then there's plain amateur behavior, and you do not want to be at the latter end of that scale.
So no matter how comfy you may get with yellow, there are some outfit choices you need to steer clear of at all costs. This includes pairing two different shades of yellow with each other, or even wearing too much yellow at one go. Loud fabrics and flashy patterns are all a huge no in yellow outfits; and unless you're a football player that's getting some sponsored, personalized, and stylish yellow cleats, you should not be investing in yellow shoes either.
Yellow is usually considered a color for warm weather due to its cooler hues, but it's a color that fits all seasons as long as you're choosing the right shade to match your vibe. If you're new to this, start at a minimal level but don't shy away from making bolder choices once you're comfortable enough, and you know you can pull this color off with your outfit choices. For more guides, visit the FHS Magazine.