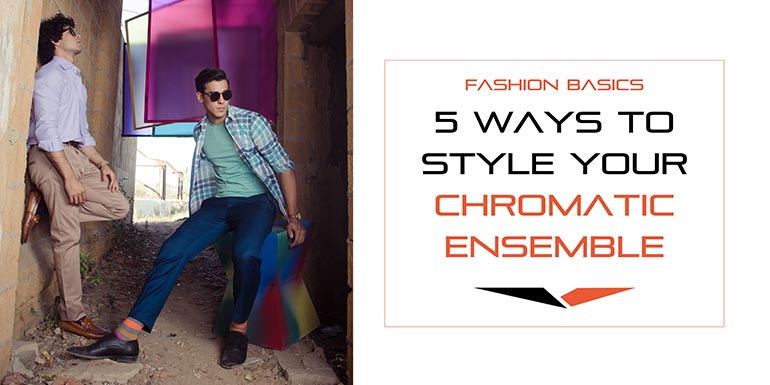 When it comes to fashion, the mixing and matching of the right colors is the key to achieving the perfect outfit for any weather. It is a fundamental rule that can not be ignored. Even when you think that you have styled a perfect outfit, one mismatch of colors, and your style is doomed. 
Styling can be fun if you have got a hold of the color scheme. This season, try and experiment with the looks that might bring the best out of you. Summer styling for men can be fun – you just have to know which chromatic (or monochromatic) palette suits you.
Importance Of Color
What is the first thing you notice in clothes when you go shopping? The color of the outfit? That makes sense because colors play a very significant role in the world of fashion, they can enhance or dull your appearance likewise. 
The colors you wear also have the power to impact your moods and feelings. And the impact they have on outfits matters the most as they define more about your personality and attitude.
With vivid colors, one can easily display their feelings and moods. Were you aware, that we can easily distinguish between two people in a particular way based on the colors they wear?  On a day-to-day basis, you are highly influenced by the colors you see or choose to wear, even if you don't always pay attention to this.
Basics Of Color
When you are matching your outfit according to colors, you should keep these two key factors in your mind to avoid mismatching.

1- The Color Wheel

The standard color order is Red, Orange, Yellow, Green, Blue, Indigo, and, Violet. Well, people normally suggest that you should pair the colors that are opposite to each other, for example, black with emerald or the second most popular recommendation is navy blue with white. But to be honest, these pairings are quite common. Therefore, you should also take hues, saturation, and brightness to create a harmonious palette.
Hue
It refers to the color's exact location on the chromatic color wheel. For example, there are three different variations of blue on the color wheel, moving on anti-clockwise will lead you to green; similarly, if you move clockwise, it will take you to purple. A hue can be actualized by mixing the combination of three primary colors.
Saturation
This refers to the extremity of the colors on the wheel.


Brightness
Brightness points out the comparative lightness from black which means zero percent brightness to white which means a hundred percent brightness.
The pristine example for styling a bright color is polo shirts, which are versatile and go well for both formal and casual events. You can try something out of the box when it comes to polo shirts, there is always room for creativity.
2- Color Harmony
It is the base of any design, as the designers use the colors to deliver a particular message or to create a specific look or feel. Color Guide For Men's Wardrobe
Color Guide For Men's Wardrobe
It is indispensable to combine colors that complement your natural complexions. Ultimately, the main essence of dressing up is to emphasize your facial features on the pragmatic side, allowing them to be more expressive. 
To understand which color scheme goes perfectly with your complexion, you are required to come to a decision on the degree of contrast, which refers to the difference between your eyebrows, hair, and skin color. 
To make it even easier for you, there are three main types: 
This type of contrast is for people with blonde hair and fair skin. 
This type includes people with mid – complexion, and in this category taking eye color in your concern is also important.
People with black and fair skin complexion are placed in this category.
Men's Color Mix And Matching Guide
Attaining the right color combination can level up your outfit goals. By utterly placing the right colors together you can easily attain a balanced look. So, in other words, if you are willing to take your fashion game to the next level, then you should be a little more thoughtful towards the color tones you choose to wear.
Neutrals 
In men's clothing, neutral wear is the key to outfits that match and never fail to impress. For instance, you can pair jog pants with some neutral shirts – they work perfectly for a casual day out. They're also very breathable and lightweight which makes them a great fit for summer.
Avoid Tonal outfits
All three-piece outfits can be pulled off easily and successfully, but there are slight chances of these outfits being a complete disaster. Only an ideal pair of moccasins can save you from such disasters, these shoes are an amazing fit for formal outfits - they can take your look from dull to classy within seconds.
Additional Tips
Say no to tops that are close to your skin tone – it makes you appear pale and washed out. 

Contrasting is the key – dark top, light bottoms, dark shoes, and vice versa. Ensure you have the right amount of balance between them.
Wrapping It Up!
Fashion is all about playing and experimenting with different color schemes and designing – you should keep trying new and different things to bring out the best of yourself. 
With this ultimate guide to chromatic colors, you can now easily mix and match colors within a snap.  
The men's fashion industry has evolved a lot in the past couple of years, allowing men to express themselves better with their dressing. If you're looking for your perfectly blended chromatic outfit, visit FHS and have a look at our summer collection.