posted by Digital Eggheads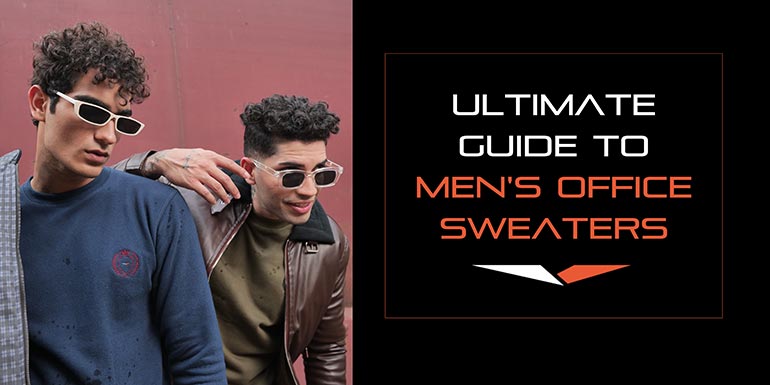 Men's office sweaters are essential during winter, especially if you live in the colder regions of Pakistan. And a sweater that fits properly is one of the most flattering garment a man can wear or style as it streamlines a large physique and adds weight to a skinny figure. It keeps you warm while its style tends to break up the monotonous wearing of formal shirts and pants.
However, most men have little knowledge about sweaters, and even fewer fully benefit from all the patterns and styles available in this versatile choice of winter wear. This article will give you a sound understanding of sweater fabrics, style, and fit; the goal is to expose you to different options you might not have thought about, so you can dress in a way that reflects the best of your individuality.
Sweater Color – Does It Have an Effect?  
Did you know? Sweater colors tend to affect the situations in which they can be worn. Light color sweaters are more suitable for autumn because they can bring attention to the wearer and are less formal but make for a perfect casual wear choice. While darker-colored sweaters are usually considered formal as they can assist you to enhance your personality which is required in a professional environment.
Different Types Of Office Sweater Men's Fabric  
Wool Sweater Fabric

The oldest and most common sweater fabric, wool was typically a widely used material to keep laborers protected in the early winter days. Today its proven ability to keep you warm, and protected from the harshness of the cold breeze; makes it a favorite winter pick of men all over the globe.

Wool sweaters are also perfect for formal wear as they add sophistication and elegance to your daily office wear. However, they require care as they can easily get damaged due to rough handling, specifically when wet.

Cotton Sweater Fabric

Another very famous formal sweater fabric is cotton. This textile material sweater is typically used during transitional seasons. These types of sweaters do not provide much protection from the cold, but they are perfect if you wear them over just a t-shirt or a shirt. Lastly, you can also wear them directly on your skin as they do not cause irritation.

Cashmere Sweater Fabric

The last one on our list is the cashmere men's office sweater fabric, this material is extremely expensive as it is one of the most luxurious sweater fabrics out there. A cashmere sweater is an ample investment for any man.
A quick FAQ: Can sweaters be dry-cleaned? Yes, drying clean is almost essential for woolen sweaters, but cashmere, cotton, and even synthetic sweaters also benefit greatly from the help of experts.
Different Formal Sweater Styles You Can Wear This Season
Crew – Neck Sweater

A crew neck is a perfect formal sweater having a symmetrical, round neckline. It is now the most used and preferred sweater style. Crew neck can be worn with a formal shirt, yet, there can be not enough space for a tie, unlike in a V-neck sweater. 

Turtle Neck Sweater

A well-fitted men's black turtle neck sweater should be a staple in every wardrobe; paired with dark trousers it will make almost any man taller, more stylish, and leaner. You can wear it with a sports jacket, a suit, or simply by itself.

V – Neck Sweater

This sweater style is similar to a crew neck sweater, but it has a V-shaped neckline. As a consequence, it is great for workwear, as it can be paired with a collared formal shirt and a tie.
This sweater allows you to accessorize your formal wear more freely as you can pair a bold tie, and you can also add a lot more textural variety by wearing a knitted tie as it is a great way to incorporate seasonal statement pieces to your outfit.


 
Wrapping Up! 
With sweaters, you can add a lot to your formal attire, and with
FHS Official
you can easily add the most sophisticated and stylish sweaters to your wardrobe.