posted by Digital Eggheads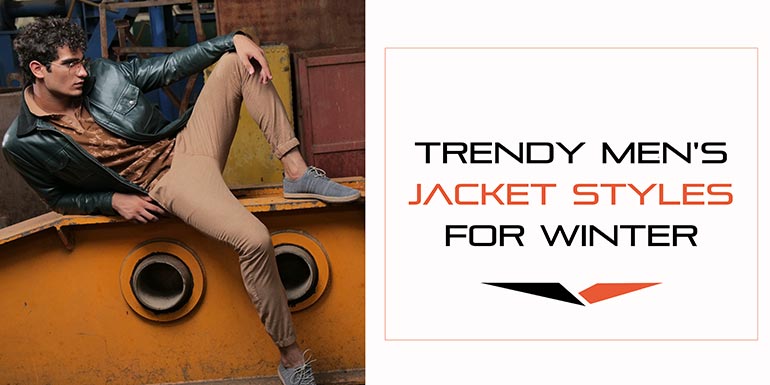 First impressions matter, whether you're out and about for a day full of meetings or catching up with friends for brunch. And so, you'll certainly want to spruce up your look with some chic men's jacket styles. 
Jackets are possibly that particular piece in menswear with the potential to add an edge and definition to nearly any look. Not just that, they also contribute immensely to the progress of men's fashion worldwide.
Want to keep things casual with an oversized jacket or like to stay organized with a colored co-ord set? Check out this guide to trendy jacket styles for men and up your style game to the next level.

Winter Jackets for Men  
From biker jackets to denim and hooded jackets, the options are endless when it comes to layering up during winter. Let's get into the details! 
Puffer Jacket

Puffer jacket is arguably a winter wardrobe essential. It is a quilted overcoat that is comfortable to wear & provides warmth. It looks good when layered right with cool outfits.

For example, a beige puffer jacket with a gray undershirt and navy sweatpants is surely an attire for the win if you want to ace a dapper look. Similarly, if you're in the mood for a more well-put-together outfit then pair a blue puffer jacket with a black sweatshirt, chinos, and leather boots to dial up the style factor.

Denim Jacket

This one needs no introduction when it comes to casual dressing. They are versatile outerwear pieces that work with a number of outfits, adding an effortlessly stylish touch to a variety of looks.

However, the key is to choose the right fit when buying one. While oversized jackets are an outstanding choice to create a relaxed appearance, cropped and fitted styles are great for sharp looks. You can best style your favorite denim jacket by pairing it with a white t-shirt, chinos, & joggers for a fuss-free look.

Biker Jacket

Biker jackets are an absolute must-have for men, owing to their signature black leather, asymmetrical front, zipper, and collars. These men's jacket styles have an urban vibe and versatility to suit a variety of people.

Flaunt an off-duty look by wearing a tea-pink turtleneck with a black biker jacket & a pair of black chinos & black derby shoes. Pair up an off-white shirt with a caramel biker jacket and beige chinos for a coordinated look. Top off your look with a pair of brown leather monk straps for extra details.

Bomber Jacket

The bomber jacket is an iconic piece of men's outerwear available in a lot of different styles and colors for different occasions. For the weekend look, wear a burgundy bomber jacket with a pair of jeans & a t-shirt or a hoodie.

Not up for something experimental? Go for the safest option: a black leather bomber jacket with black jeans & a black t-shirt for an edgy look.

All in all, the bomber jacket works best in casual & smart-casual settings if mixed and matched right for a polished look.



 
In a nutshell, however, if you prefer to dress in these men's jacket styles, maintain a balance between fashion & function. This will allow you to stay on top of your style game without giving up your comfort. Looking for something similar? Check out our versatile collection of men's winter jackets available at FHS official.